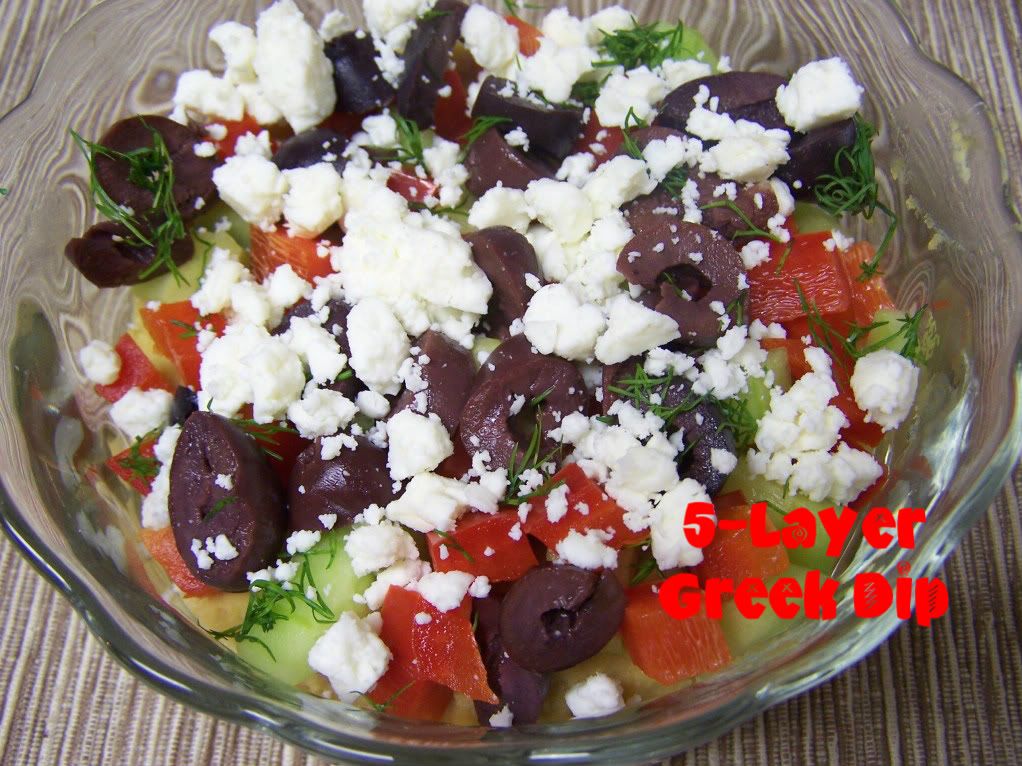 To wrap up my Greek week, I wanted to share one more recipe.  It is a Greek Layer Dip, and it is delicious.  You can serve it with your Chicken Gyros or as an after-school snack with some pita chips and/or vegetables for your littles.
Once again, I found this recipe on Pinterest.  It is at this point that I must confess that I am not sure how I made my weekly menus without Pinterest.  Whenever I am reading food blogs or just looking at other Pinterest boards, I simply pin or re-pin something to my various boards – breakfast, pasta, pizza, etc.  Then, when I plan my menu, I sit down with my computer and my big binder of recipes and start planning away.  If it something from Pinterest, I simply note the board so that I can find it on any given day.  I love it.  And, no, Pinterest did not ask for my endorsement.  I really just love how it has helped me to organize the things that I find online without having to print out or bookmark everything.
Okay, back to the recipe.  When I discovered it, I was directed to The Lovely Cupboard.  It was my first trip to Heather's blog, and it is truly just adorable.  She blogs about organic food and her DIY projects.  Her posts are precious, and I am in love with how she displays her photographs on little chalk boards.  Her 5-Layer Greek Dip is simple and delicious.
Ingredients
Kalamata olives, sliced
Red bell pepper, diced
Hot house cucumber, diced
16 ounces hummus
Fresh dill
Feta cheese
Instructions
1. Finely chop olive, bell pepper, cucumber, and dill.
2. Spread hummus about 1-2 inches thick in the bottom of a wide serving dish.
3. Sprinkle the vegetables evenly over the hummus.
4. Crumble feta cheese on top.
5. Sprinkle bits of dill and serve with warm pita slices, pita chips, or vegetables.
http://cookingformykids.com/2012/01/05/pinterest-love-recipe-5-layer-greek-dip/
I shared this recipe at Cooking with Karyn, Miz Helen's Country Cottage, Somewhat Simple, A Glimpse Inside, It's a Keeper, Delightful Order, A Creative Princess, Domesblissity and Fireflies and Jellybeans.