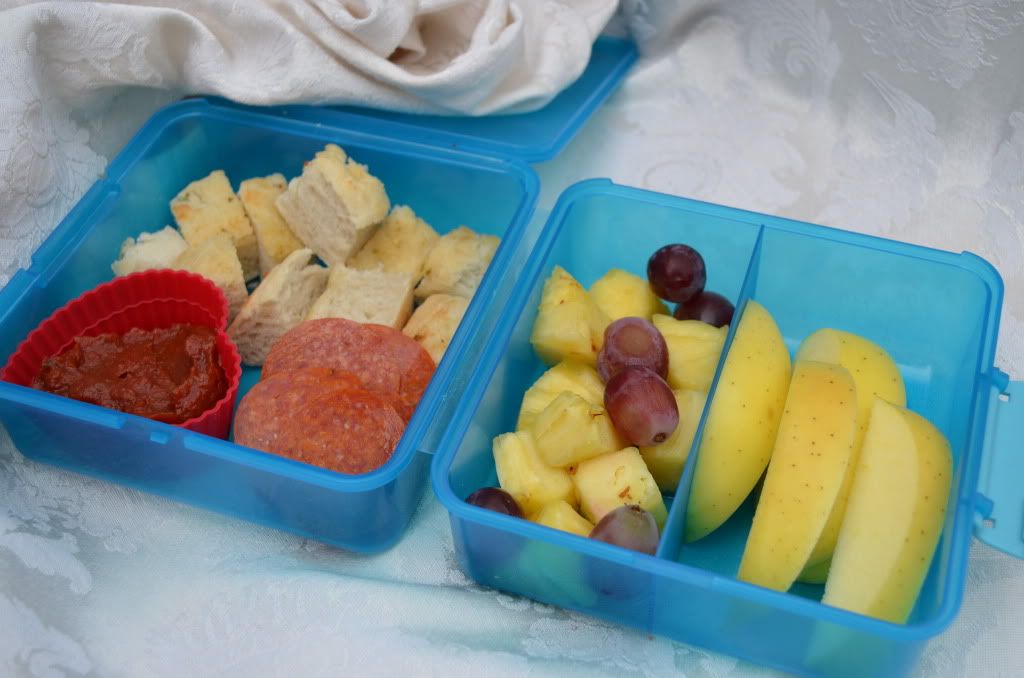 It has been a great week to cook for my kids while participating in project lunchbox.  While I almost always pack lunches for the littles, this week has given me a new perspective on it as I looked for new, healthy, more exciting things to pack.

For this lunch, I packed garlic bread cubes, pizza sauce, pepperonis, pineapple, grapes, and apple slices.  It took minutes to put it all together, and I knew that the boys would enjoy every bite.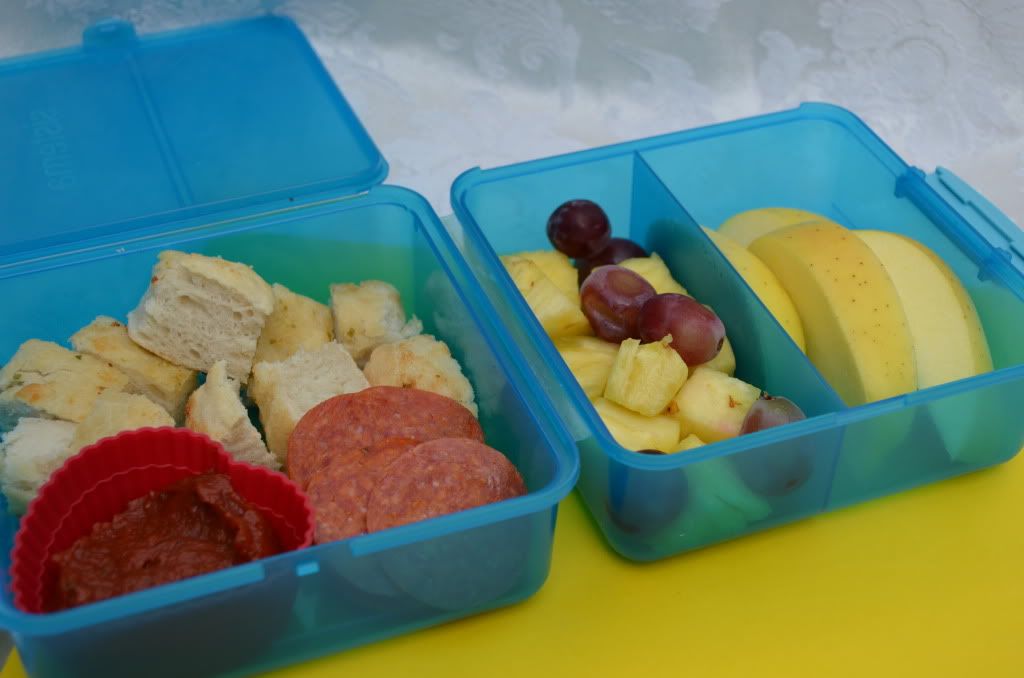 There is nothing spectacular about any of the lunches.  Most of them are just made by putting together a little bit of leftovers with some fruit and vegetables.  What has made them special is the extra little effort of coming up with something new, different, and fun for them.  Because, as much as the school year wears on me, it does the same thing to them.  We need to encourage each other.  And, sometimes something as simple as a fun lunch is all the encouragement that they need.
Garlic Bread Cubes with Pizza Sauce
Ingredients
For the Garlic Bread Cubes
Pizza crust
Butter
Garlic salt
For the Pizza Sauce
1 tablespoon olive oil
2 cloves garlic, minced
1 8 ounce can tomato sauce
1 6 ounce can tomato paste
1 teaspoon onion powder
1/2 teaspoon sugar
1 teaspoon Italian seasoning
Instructions
Preparing the Garlic Bread

Preheat oven to 450.
Spray a baking sheet with cooking spray.
Using your hands, spread out the pizza dough into a rectangle, making sure to leave it thick and fluffy. You do not want to roll it flat like a pizza.
Spread butter on the dough, and then sprinkle it with garlic salt.
Place in the oven and bake for 10-15 minutes.
Remove from oven and cut into slices. Then, cut those slices into cubes.

Preparing the Pizza Sauce

Pour the olive oil into a small pan, and heat over medium heat.
Add the minced garlic, and saute for 1-2 minutes.
Reduce the heat slightly and add the tomato sauce, tomato paste, onion powder, sugar, and Italian seasoning.
Cook for at least 15 minutes. Taste and adjust seasoning according to your taste preference.

Serving

Serve the garlic bread cubes with the pizza sauce for dipping.
http://cookingformykids.com/2012/04/06/cooking-for-my-kids-project-lunchbox-recipe-garlic-bread-cubes-with-pizza-sauce/
Enjoy!