Last night, this is what unfolded in our house.
All things were quiet and calm, when suddenly I heard things erupting, in a playful way.
Led by their papa, they had chosen teams, and a Nerf war quickly ensued.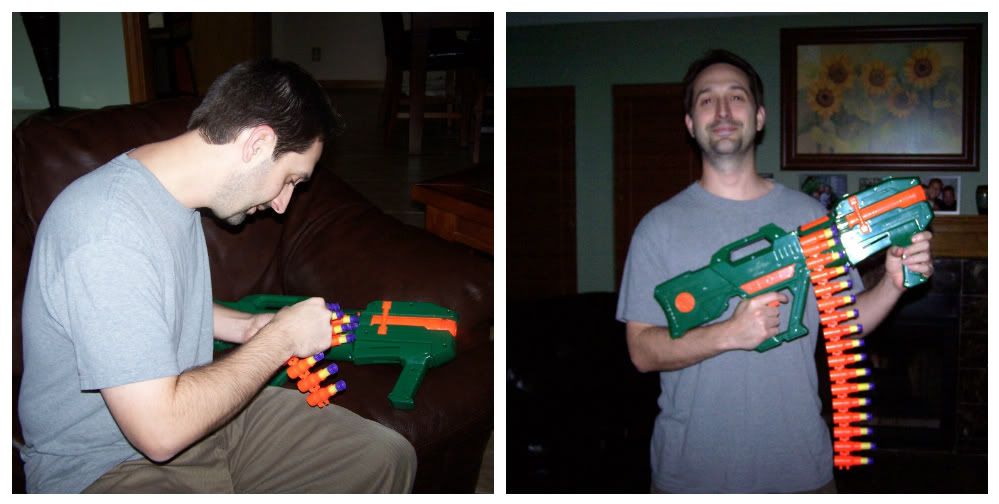 Since it was already two against two, I opted to take pictures…
Until my boys begged me to join their team.  Sean and Summer were getting the best of them, and I could not have that.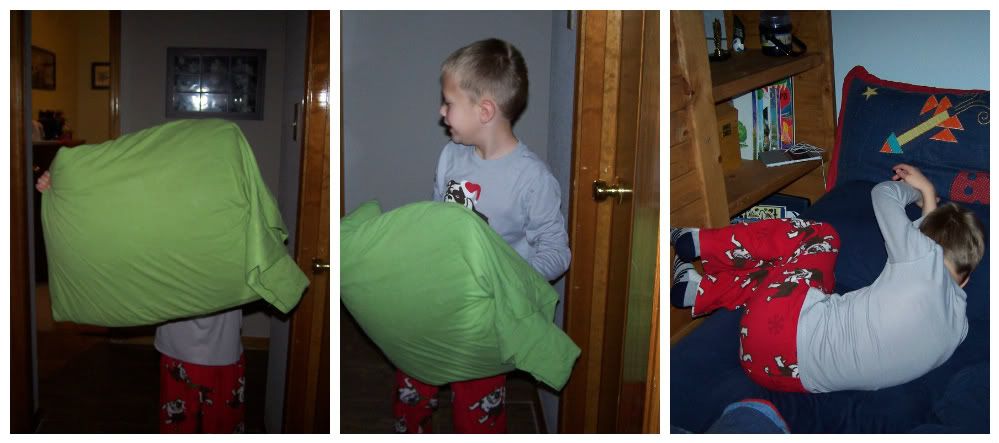 So, I did what any good momma would do, I told the boys to follow me, and we took cover behind Dakota, our sweet dog.  Because, I knew that, even though Sean would shoot bullets at us, he would never harm Dakota.  He did not like it, but it worked…
Until he realized that he could go behind us.
So, we took cover in Ethan's room and started throwing all of the soft balls at him that we could find.  And, it worked…
Until I captured Summer, and she just fell apart, partly because she was tired, partly because she wanted to win so bad, and partly because she was feeling bad for not being on my team.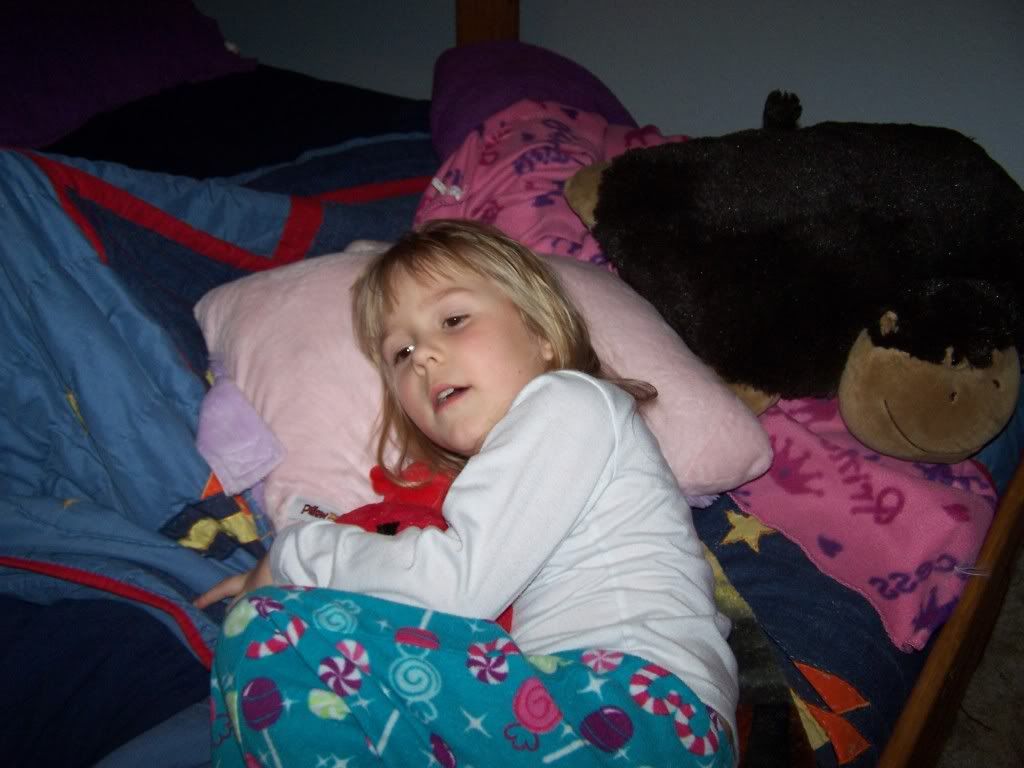 So, we called it a tie and cleaned up.  And, for the remainder of the night, Summer kept asking me if I would switch teams and be on their team tonight, while Gabriel would look at me like, "There is no possible way that you can do that."
I love that they both want me on their teams.  I can only hope that they will all three always know that, no matter what, I am always on their side.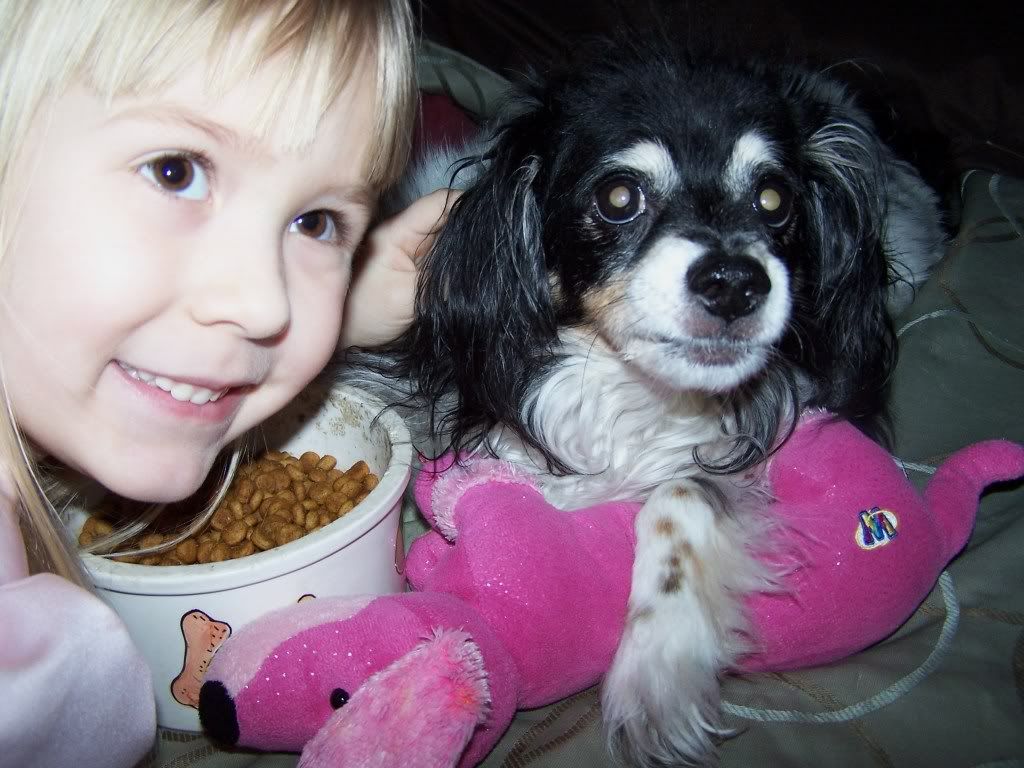 Much like the Nerf war game last night, this BBQ Chicken Stromboli was also something impromptu that I just kind of threw together.  I remembered seeing Lauren's Stromboli over at Lauren's Latest and thinking that I had not made one in a very long time.  So, I decided that it would be a perfect Sunday night dinner.  And, the result was fantastic.  We all loved it.  Well, Summer liked the bread…but she does not always get a vote in what food is actually fantastic.  If four out of five of us like it, then we call it a definite thumbs up.
Ingredients
Stromboli Crust
1 cup warm water
1/2 cup warm milk
1 teaspoon active dry yeast
1 teaspoon sugar
1 teaspoon salt
4 cups flour
1/3 cup olive oil
Stromboli Stuffing
Chicken, shredded
Philadelphia cooking cream cheese
BBQ Sauce
Pizza cheese
Stromboli Topping:
1/4 cup melted butter
Kosher salt
Instructions
Preparing the Dough

Sprinkle yeast over the warm water and milk mixture.
Allow to sit for about 5-10 minutes.
Add the salt, sugar, and flour, and mix with a dough hook.
While continuing the mix, gradually add the olive oil.
Knead with the dough hook for about 5 minutes.
Spray a bowl with cooking spray, and add the dough to the bowl.
Cover with a towel, and allow to rise for 60-90 minutes.

Preparing the Stromboli

Preheat oven to 450, and spray cooking spray on a baking or pizza sheet.
Prepare a working space by sprinkling flour on it.
Pinch off a large ball of the dough, and roll out into a rectangle.
Spread a layer of the cooking cream cheese on the dough, concentrating it in the center and spreading out but not too close to the outside edges since you will be rolling those over.
Add the chicken. I used leftover baked chicken. You could also use cooked, diced chicken breasts.
Drizzle a generous amount of BBQ sauce on top of the chicken.
Cover with cheese. I used a pizza cheese mix, but any cheese would work.
To roll, I took both sides and just clamped them together, while pinching the sides together all the way down. Once it was closed, I rolled it down and folded the sides.
Bake for about 15-20 minutes, checking to make sure that the top is not too brown. If the top is getting too brown, but you do not feel like it is ready, you can cover it loosely with foil and cook another few minutes.
Remove from the oven.
Brush it all over with the melted butter, and sprinkle lightly with the kosher salt.
Cut into slices and serve with ranch dressing for a dipping sauce.
http://cookingformykids.com/2012/01/25/nerf-wars-recipe-bbq-chicken-stromboli/
Enjoy!
If you have not visited Lauren's blog, you should.  She has amazing recipes mixed with a side of humor.  I absolutely love reading her posts.
I shared this recipe at Bizzy Bakes, Lil' Luna, The King's Court, Polkadots on Parade, This Chick Cooks and Lady Behind the Curtain.