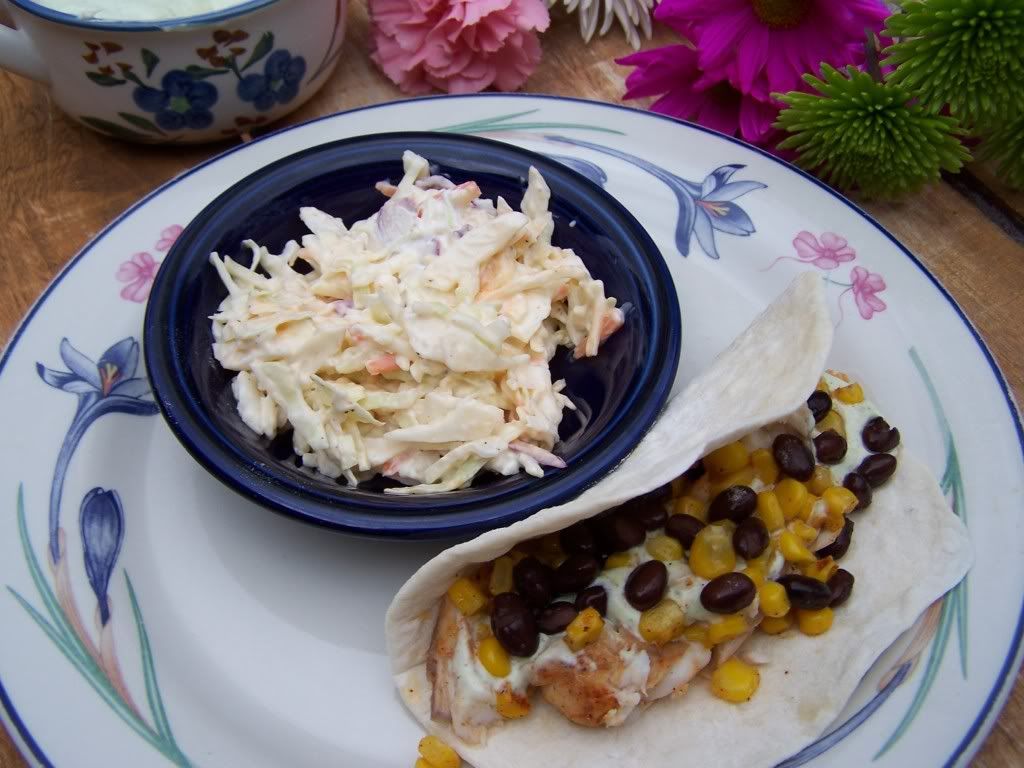 I do not have any stories to share.  I just have a simple recipe that goes great with the Tex-Mex Fish Tacos that I posted on Monday.  I am not a coleslaw fan.  But, we have a broccoli slaw recipe that we really like.  So, I based this on that one, changing up a few things to make it creamy, spicy, and delicious.
Ingredients
16 ounces coleslaw mix
1/2 cup mayonnaise
1/2 cup sour cream
2 tablespoons sriracha hot chili sauce
1 tablespoon red wine vinegar
1 tablespoon olive oil
1 tablespoon white cooking wine
Kosher salt, to taste
Ground black pepper, to taste
Instructions
Pour the coleslaw mix into a bowl.
In a separate bowl, whisk together the mayonnaise, sour cream, and hot chili sauce until creamy.
Pour in the red wine vinegar, olive oil, and white cooking wine, until combined with the mayonnaise mixture.
Add the creamy mixture, salt, and ground pepper to the coleslaw, and mix together to combine.
Serve with Tex-Mex Fish Tacos, sliders, or BBQ for a delicious side dish.
http://cookingformykids.com/2012/03/13/recipe-spicy-coleslaw/
Enjoy!