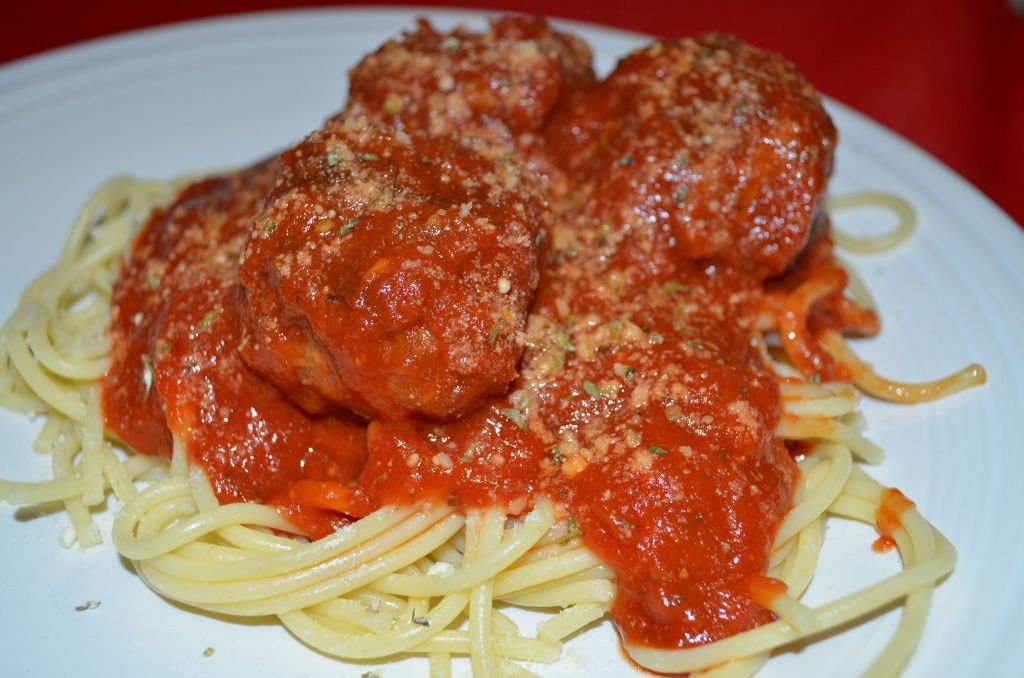 One of the things that I saw on someone else's (sorry, I cannot remember whose!) summer fun list was to watch Lady and the Tramp while eating spaghetti and meatballs.  What a great idea!  Given how much we love pizza and movie night, I new that adapting it to movie and spaghetti and meatballs night would be perfect. So, on Monday, that is exactly what we did.
We ate the spaghetti and meatballs picnic style on the floor, while watching a truly adorable movie. Everyone loved it.
It was a perfect way to begin another summer fun week.
Ingredients
Meatballs
2 pounds ground beef
1 egg
1 cup bread crumbs
1/2 cup parmesan cheese
1 teaspoon salt
1 teaspoon ground pepper
1 teaspoon onion powder
2 teaspoons Italian seasoning
1 tablespoon olive oil
Sauce
28 ounce can tomato sauce
6 ounce can tomato paste
2 gloves garlic, minced
1 teaspoon salt (or more, to taste)
1 teaspoon pepper (or more, to taste)
2 teaspoons Italian seasoning
1 teaspoon sugar
1 teaspoon onion powder
*Note - adjust seasoning according to taste preference
Instructions
Meatballs

Add the hamburger meat to a large bowl.
Pour in the eggs, bread crumbs, parmesan cheese, and all seasonings.
Using your clean hands or a spoon, mix together.
Form into 2 inch balls.
Add olive oil to a large cooking pan, and heat over medium to medium high heat.
Once the burner is hot, add the meatballs to the pan.
Cook for about 5 minutes, and then turn.
Cook for another 5 minutes or until no longer pink. *Note - the cooking time might be more or less, depending on your stove, how comfortable you are with the cooking time of your beef, etc.

Sauce

Leave the meatballs in the pan and reduce the heat to medium low.
Add the tomato sauce and tomato paste to the pan and mix it together.
Add the garlic and all of the seasonings.
Cook over low heat for at least 15 minutes.
Serve over cooked spaghetti.
http://cookingformykids.com/2012/06/13/summer-fun-eat-spaghetti-and-meatballs-while-watching-lady-and-the-tramp-recipe-spaghetti-and-meatballs/