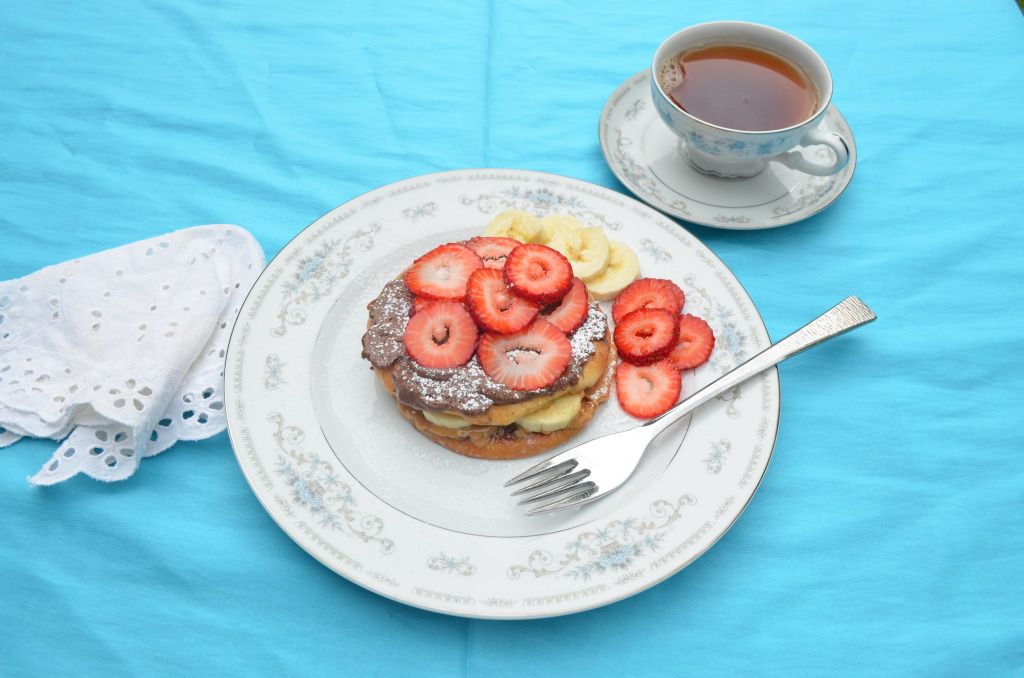 The littles are not huge breakfast eaters.  They prefer cereal or smoothies, and I am great with that most days.  It is easy, and sometimes easy is good.
There are other days when I want something a little different.  Today was one of those days.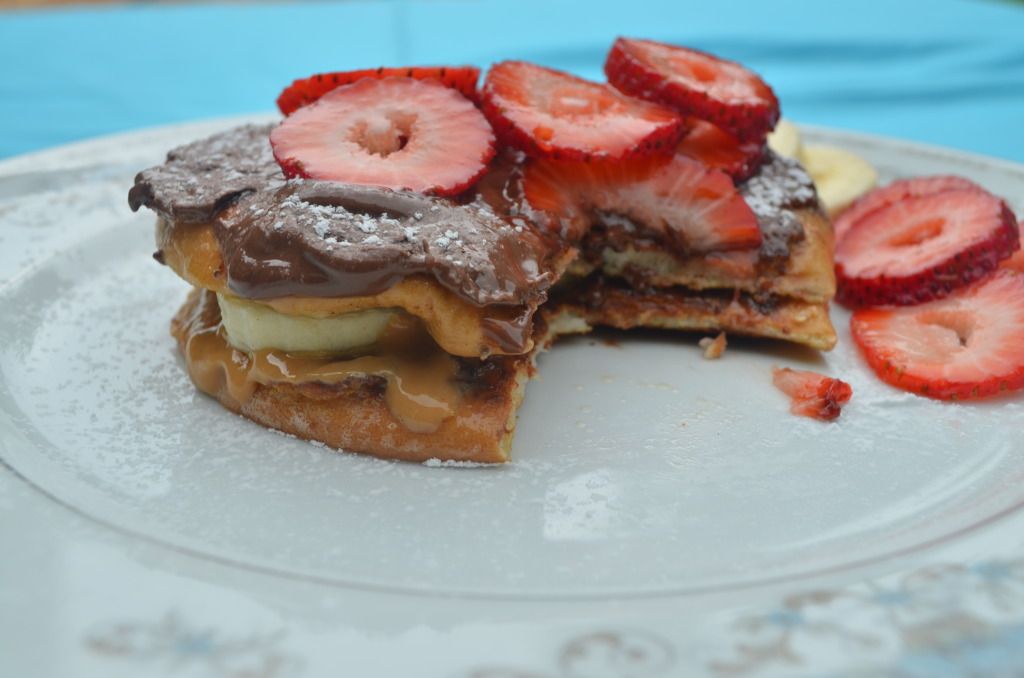 I checked the pantry and refrigerator and decided to create something new.
Bagel thins, peanut butter, Nutella, strawberries, and bananas were all calling me to make them into French toast.  And, I am so glad that they did.  While the littles were happily eating their cereal, I was enjoying a special mommy breakfast, complete with a fancy cup of tea.
Peanut Butter Nutella Bagel French Toast with Strawberries and Bananas
Ingredients
Bagel thins
3 tablespoons butter
2 eggs
1 tablespoon heavy whipping cream
1 tablespoon milk
1 teaspoon vanilla
1 teaspoon cinnamon
1 banana, sliced
5-6 strawberries, sliced
1 tablespoon peanut butter, per serving of French toast
1 tablespoon Nutella, per serving of French toast
Instructions
Whisk together the egg, whipping cream, milk, cinnamon, and vanilla. Set aside.
Add butter to skillet or large cooking pan and heat over medium high heat. Make sure the melted butter covers the entire pan.
Place the bagel thins into the milk mixture. Dip both sides into the mixture.
Put the bagels into the skillet. Cook on each side for 2-3 minutes, until the milk mixture has hardened around it.
Place the bagels slices onto a cutting board.
Spread one side of one bagel thin half with peanut butter.
Add the banana slices to the top.
Place another bagel thin half on top of the bananas.
Spread Nutella on that slice, and top with the strawberries.
Sprinkle powdered sugar all over it. Serve with extra bananas and strawberries.
http://cookingformykids.com/2012/07/17/lazy-summer-breakfasts-recipe-peanut-butter-nutella-bagel-french-toast-with-strawberries-and-bananas/