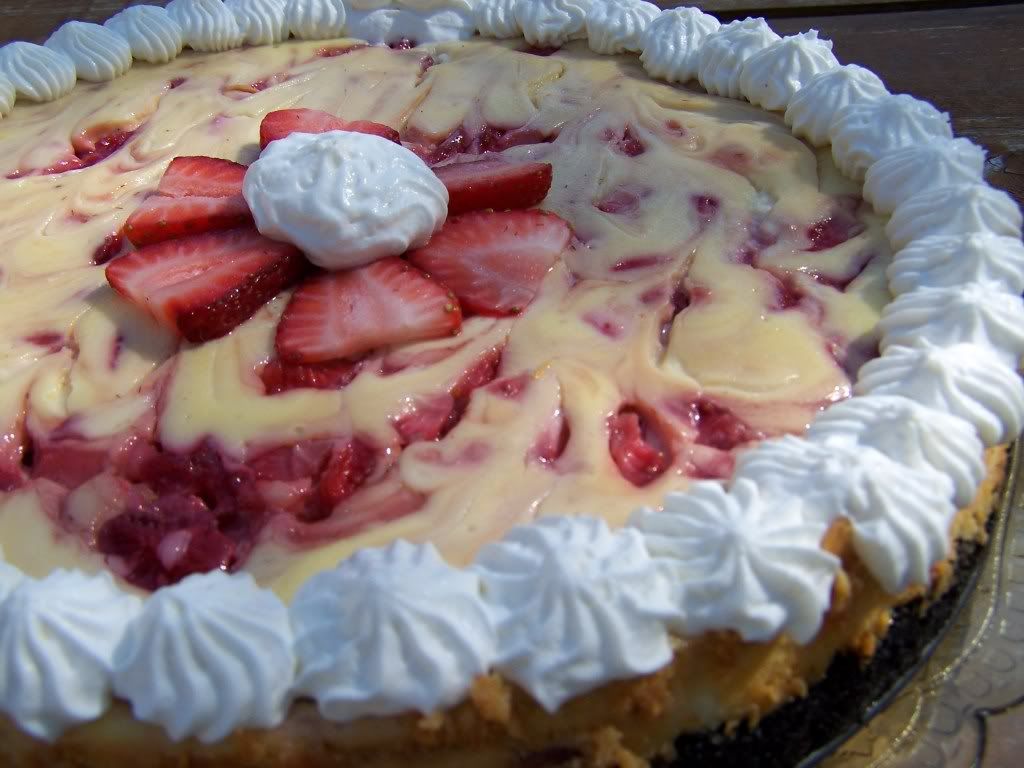 I celebrated a little birthday on Sunday.  And, it was great.
My sister spoiled me with a manicure and pedicure.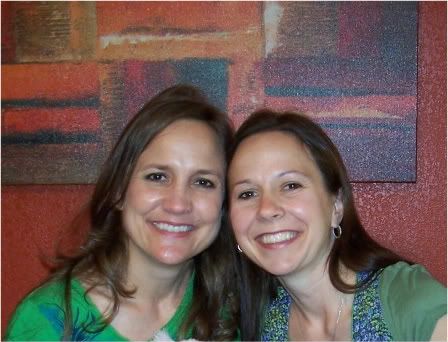 My parents came in to spend part of the day with me.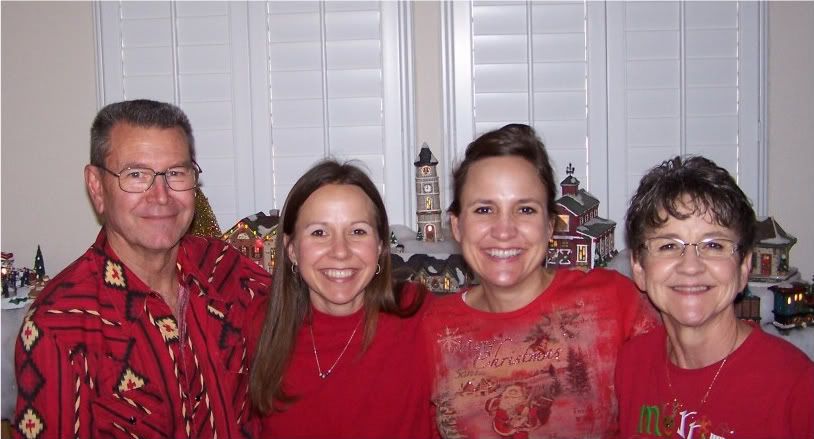 The littles showered me with presents.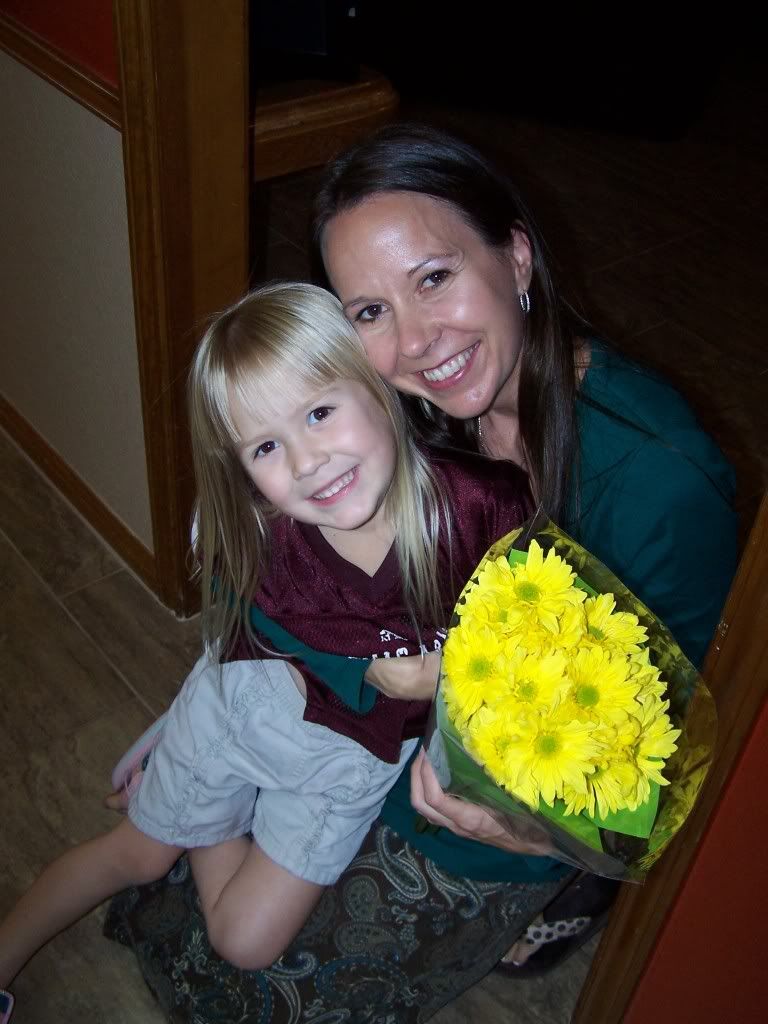 Sean made me a delicious dinner, which I will definitely blog about later.
I decided to make my own cake.  I knew in my head what I wanted, and I just hoped that it would turn out exactly like I had imagined it.
And…it did!
White Chocolate Strawberry Cheesecake
Ingredients
For the Crust
1 package Oreos
1/2 cup butter, melted
For the Cheesecake
3 8 ounce packages of cream cheese, softened
1 10 ounce can of sweetened condensed milk
1/4 cup lemon juice
1 teaspoon vanilla
3 eggs
For Strawberry Sauce
10-12 strawberries, diced
1 tablespoon corn starch
3 tablespoon sugar
1/4 cup water
White Chocolate
1 cup white chocolate chips, melted
Whipped Cream
16 ounces heaving whipping cream
1/2 cup powdered sugar
1 teaspoon vanilla
Instructions
Getting Ready

Preheat the oven to 300.
Spray a springform pan with cooking spray.

To Prepare the Crust

Place the Oreos in a blender or food processor, and blend/pulse until finely chopped (crumbs).
Pour the Oreo crumbs into a bowl, and add the melted butter.
Mix together, and then press into the bottom of a greased springform pan.

Strawberry Sauce

Heat a sauce pan over medium heat.
Add the strawberries, corn starch, sugar, and water. Stir to combine.
Simmer for 10 minutes.
Remove from the burner and allow to cool.

Making the Cheesecake

Place the cream cheese in the bowl of a mixer, and mix until fluffy.
Slowly add the sweetened condense milk, and continue to mix together.
Once well-blended, add the lemon juice.
Add the eggs and vanilla, and mix until combined.
Pour half of the mixture into the pan, on top of the Oreo crumb crust.
Spoon the strawberry mixture by teaspoon into the cheesecake, adding about 6 teaspoons of the strawberry mixture.
Using a knife, cut through the cheesecake and strawberries to gently swirl the sauce.
Add the remaining cheesecake mixture.
Repeat the strawberry step.
Add the melted white chocolate by teaspoons.
Using a knife, cut through the strawberries and white chocolate to swirl it all together.
Bake for 45 minutes, until almost set.
Remove from oven and cool for 10-15 minutes.
Run a knife around the edges to loosen, and cool for another hour.
Refrigerate over-night, and then remove the sides of the pans.

Preparing the Whipping Cream

Add the heaving whipping cream to a bowl.
Beat with an electric mixer on low speed.
Slowly add the powdered sugar and vanilla.
Continue to beat for 8-12 minutes, until stiff, fluffy peaks start to form.

Decorating the Cheesecake

Pipe whipped cream around the edges, using a decorating tip.
Place sliced strawberries in the center.
http://cookingformykids.com/2011/10/26/birthday-celebration-recipe-white-chocolate-strawberry-cheesecake/
For inquiring minds…38 feels pretty great.  🙂
I have shared this recipe at Crazy for Crust, The 36th Avenue, Something Swanky, The King's Court, My Sweet and Savory, Sugar and Dots, Ginger Snap Crafts, Hugs & Cookies,  Lil' Luna, My Girlish Whims, Lady Behind the Curtain, Daily Organized Chaos, Passionately Artistic, Remodelaholic, This Chick Cooks, Polka Dots On Parade, Creations by Kara, Something Swanky, The 36th Avenue, It's a Keeper, Somewhat Simple, Allie Makes, Miz Helen's, Fireflies and Jellybeans, A Creative Princess, Delightful Order, A Little Nosh, Bizzy Bakes, Alli 'N Son, Sweet as Sugar Cookies, Gingerbread, A Well Seasoned Life, Moms Crazy Cooking, Cajun Sugar Pie, and Blue Cricket Design.