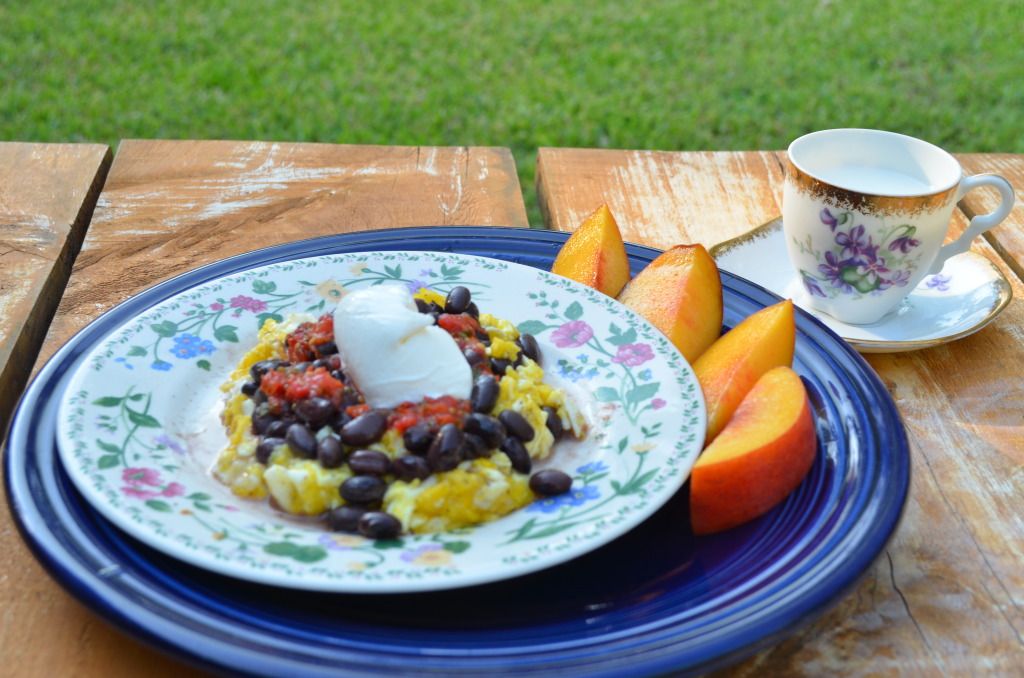 As I have mentioned, the littles all three started school on Monday.  In the blink of an eye, my life changed a little bit.   Sean and I joked that I would be sitting around eating bon bons all day.  In all honesty, though, I have not had much time for idle nothingness yet.  I have purposefully stayed busy because, well, the house is just way too quiet these days.
When the littles asked me last night if I liked being at home alone, I did not know how to answer.  I did not want to exclaim, "No!" because I did not want them to become clingy and worry about leaving me.  I did not want to say, "Yes!" because that is simply not the truth. So, I did the typical mom thing and remained neutral.  I told them that I missed them during the day but that it helped knowing that they were having so much fun.  I also told them that I feel like I can get more done during the day so that I can just focus on them each afternoon when they get home from school.
The truth is that when I am looking for the rainbow, there is one.  The one thing that I do like is that I can complete a project without stopping to fix a snack or a meal.  When I decide to eat lunch at 2 or breakfast at 10, I can do that.  While those things certainly do not make up for all of the ways that I miss my littles all day, it does help me to focus on the positive about having all three in school, happily learning, making new friends, and growing in so many wonderful ways.
For today, I will enjoy my late morning tea and breakfast cooked up in 5 minutes flat.  When I was deciding what to make, I remembered that sweet Kristen had posted a breakfast scramble recipe a few weeks ago.  I made one for my family that very weekend, and they loved it.  When I made one for myself today, it was literally ready in about 5 minutes.  I love meals that are quick, easy, and healthy.  And, as an added bonus, I was able to focus on cooking and taking pictures for a few minutes instead of watching the clock to determine exactly where my littles were at that given moment in time.
Individual Breakfast Egg Scramble
Ingredients
1 tablespoon butter
2 eggs
salt
pepper
1 tablespoon feta cheese
1/4 cup black beans
2-3 tablespoons fresh salsa
1 tablespoon sour cream
Instructions
Spoon butter into small cooking pan, and heat over medium heat.
Add the eggs, and sprinkle in the feta cheese, salt, and pepper.
Once the whites start to cook, scramble the eggs together until they are the consistency that you prefer them. I like mine a bit soft.
Remove from pan and place on a plate.
Spoon the beans on the eggs, then add the salsa, and top off with the sour cream.
Enjoy!
http://cookingformykids.com/2012/08/29/my-new-life-recipe-individual-breakfast-egg-scramble/
The littles truly are doing great, and I am very, very happy about that.  I know that I will adjust to this new life.  I will eventually get into more of a routine of substitute teaching, menu planning, organizing our daily schedules, and taking care of our household.  I will be thankful for the time that I have to complete tasks without saying, "Just give me one more minute." School is hard, but it is also amazingly wonderful.  I often tell people to "just embrace it" when things in life are not going exactly as planned.  So, I am giving myself that advise today.  I am going to embrace this new life…and maybe even take a nap this afternoon after eating some bon bons and watching a movie.