I knew that I wanted to make the weekend very special for the littles.  I had been planning a little theme in my head for weeks.  But, the weekend…the last weekend before school starts…was upon us before I knew it, and I was scrambling to get to Party City on Friday to buy a few decorations.
It did not take much, though, to make our kitchen come alive.
Ethan was the first one up, and, even though I had just now started decorating, he was in total awe and fascination.  He had a huge smile on his face, knowing that it was going to be a fantastic, special day.
Summer was up next, and, while it took her a few minutes to really wake up, once she did, her smile was as bright as the colors in the windows.  She looked around the room in wonder, asking why it was decorated today.
Gabriel got up last, and, once he walked in, the room was finally complete.  He knows me well, and was the least surprised of all.  He knows that I do not let an opportunity to celebrate pass us by.  He loved it, though, and that was evident in the small, sideways smile on his face.
The colors were red, orange, yellow, green, blue, and violet – the colors of the rainbow, of course.  And, throughout the day, I half expected a unicorn to make an appearance.
When the littles asked why we were having a rainbow theme this year, I said, "Somewhere over the rainbow dreams come true for Summer in Kindergarten, Ethan in 2nd grade, and Gabriel in 4th grade."  I thought that it was a perfect theme for what I anticipate to be a year filled with amazing, wonderful, fulfilled dreams.
We had a special colorful dinner – chicken fajitas with red, yellow, and green bell peppers.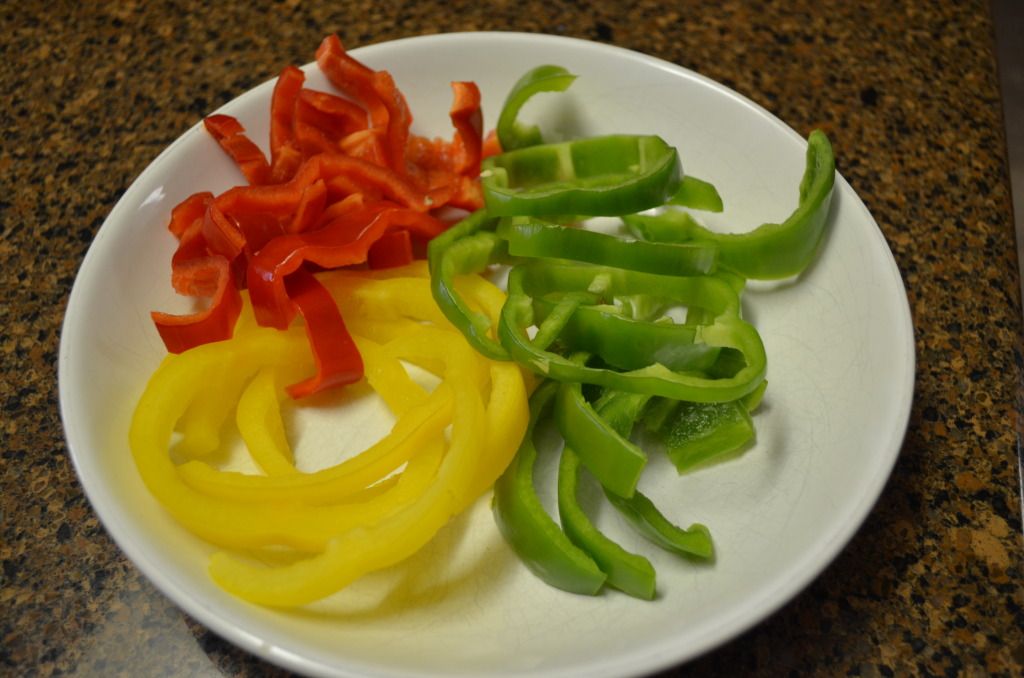 The plates were even in perfect rainbow colors.
After dinner we had our annual back-pack opening celebration.
I like to fill the backpacks with fun things like pajamas, t-shirts, books, and fun supplies.
They are surprised and happy each year when they go through all of the zippers, in joyful anticipation of what they are going to find.
To end the night, we had chocolate cupcakes with rainbow frosting.  It was a perfect end to a day filled with dreams come true.
While I will miss the littles terribly tomorrow, I will have the memories of this weekend, and I will remember the smiles, the laughter, and the love as we celebrated a special moment in the lives of my sweet littles. Actually, the unicorns did appear.  They were in the form of a free-spirited, joyful Kindergarten girl, a magical, lovable 2nd grade little boy, and an amazing, angelic 4th grade young man.