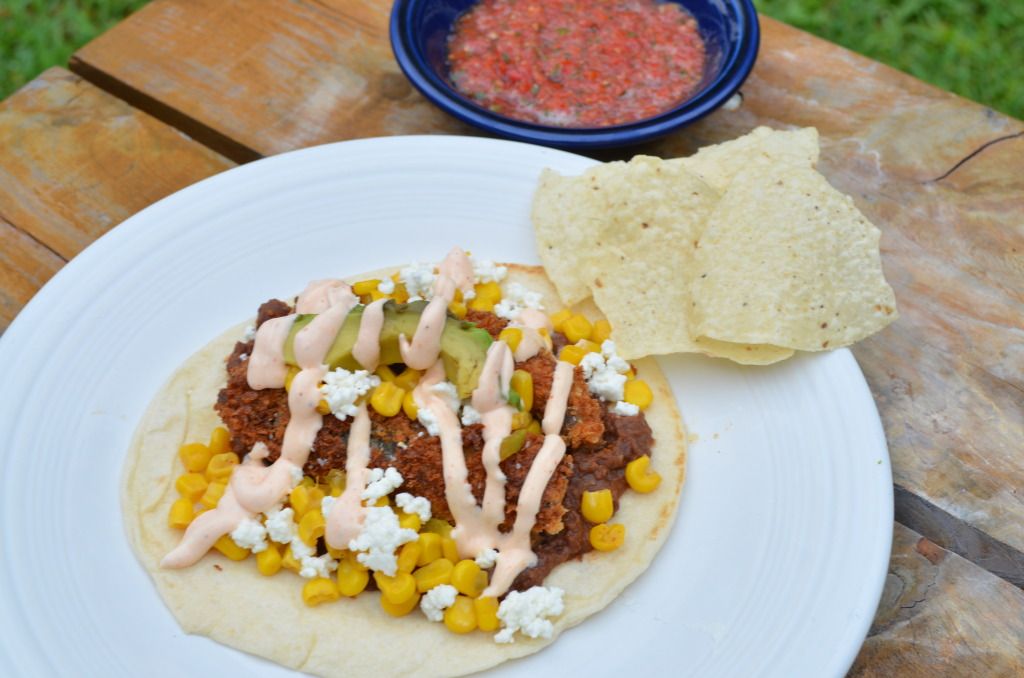 I have a new favorite taco place.  When we went there last weekend, and I tried The Independent, I knew that I had to re-create it to prevent me from wanting to go there every single weekend.
It did not take me long to attempt to make it because I was already craving it yesterday, and since it was Tuesday, I knew that it was destined to be a our Tuesday Taco meal.
I was not positive if the littles would like the fried portobellos, but I knew that they would be happy with the beans, corn, tortillas, chips, and salsa.  So, I proceeded with the meal, knowing that it was something that might not go over well with everyone else in the family.
I was half right.  Sean and Gabriel loved it.  And, as predicted, Summer and Ethan got by on everything else, omitting the portobellos from their meal.  One day they will get there…
I was extremely pleased with the meal because it was so very close to what I had experienced over the weekend.  Knowing that I can make it myself whenever I want brings a smile to my face and makes me realize that it is one of the very reasons that I fell in love with cooking.  Success with food in the kitchen is a very satisfying feeling.
Portobello, Black Bean, and Corn Tacos
Ingredients
For the Mushrooms
3 portobello mushrooms
1 cup flour
1 egg
1 cup milk
2 cups Panko bread crumbs
1 teaspoon cayenne pepper
1 teaspoon seasoned salt
2-3 cups canola oil
For the Sauce
1/4 cup sour cream
1/2 cup whipping cream
1 teaspoon sriracha hot sauce
1 tablespoon fresh squeezed lime
1 teaspoon Kosher salt
1 teaspoon fresh ground pepper
For the Corn
2 cups fresh or frozen corn, cooked
1 teaspoon seasoned salt
1 tablespoon dill relish (you can make it fresh or use store-bought)
For the Tacos
Refried black beans
Sliced avocados
Goat cheese
Cilantro, optional
Fresh salsa, optional
Flour tortillas
Instructions
Preparing the Fried Portobello Mushrooms

Slice mushrooms in strips.
Add the flour to a ziplock bag, and place the mushrooms in the bag with the flour.
Shake to coat, and allow to sit for 10 minutes.
Mix together the milk and egg to create an egg wash.
Place the panko bread crumbs in a bowl wide enough for dredging, and mix in the seasoned salt and cayenne pepper.
Pour the canola oil into a skillet or large pot, and heat over medium high heat.
Once the oil is hot, place the mushrooms strips in the milk mixture, covering both sides. Then, dredge through the bread crumbs.
Place in the hot oil.
Continue with each of the strips, cooking on each side 2-3 minutes, until browned.
Place the cooked portobello mushrooms onto a paper-towel lined plate and immediately sprinkle with Kosher salt.

Preparing the Sauce

Mix together the sour cream and whipping cream until smooth.
Add in the pepper sauce and lime juice, continue to whisk together.
Sprinkle in the Kosher salt and black pepper.

Preparing the Corn

Cook or roast the corn.
Add in the fresh or prepared relish and the seasoned salt.

Putting It All Together

Place one flour tortilla on a plate.
Spread black beans on the tortilla.
Place 1-2 fried portobello mushrooms strips on top of the beans.
Add 1-2 avocado slices on top of the mushroom strips.
Sprinkle the corn and goat cheese over everything.
Top with a generous drizzle of the sauce.
Add fresh salsa and cilantro to finish it off, optional.
http://cookingformykids.com/2012/07/11/tuesday-tacos-recipe-portobello-black-bean-and-corn-tacos/