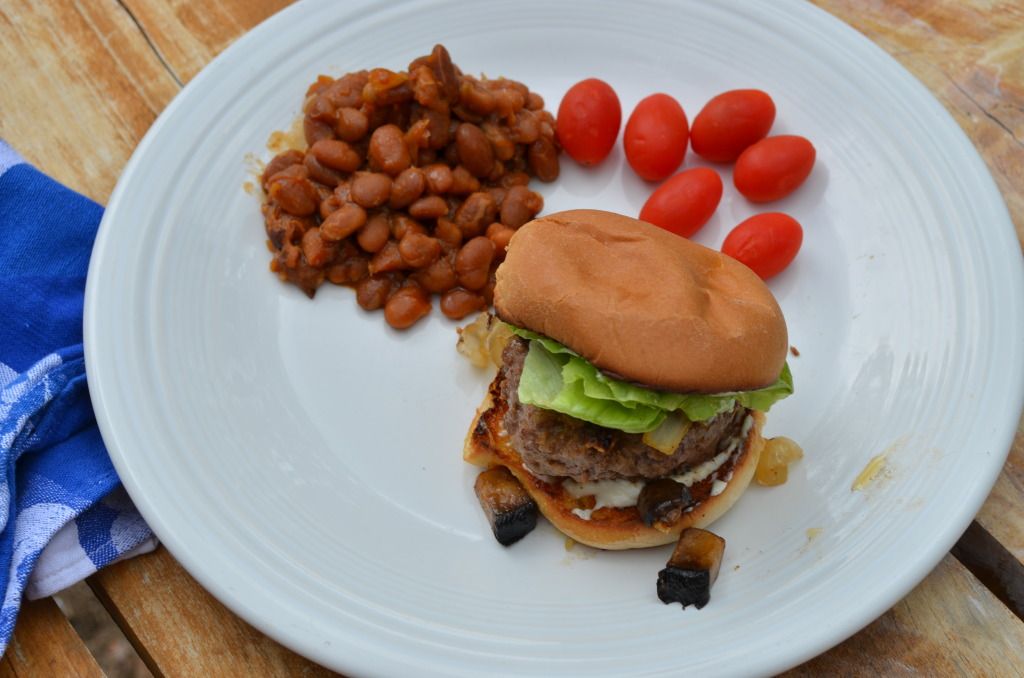 I have not been posting as many new recipes this summer.
For the first month, I was in school and spending every spare second either studying or entertaining three precious littles.
Now that I have school marked off my list, I can continue with our summer fun list and start cooking up fun, new food again.
Yesterday was one of those days where I looked in my refrigerator and pantry and decided that I wanted to create something.  Since I had slider buns, I decided to start there.
What I ended up with was a delicious slider burger, complete with portobello mushrooms, onions, and cheddar cheese.  It brought some sunshine into the kitchen on our lazy, rainy summer day.
Beef, Portobello, and Grilled Onion Sliders
Ingredients
2 pounds ground beef
1 tablespoon worcestershire sauce
1 teaspoon pepper sauce
1/2 cup shredded cheddar cheese
2 teaspoons seasoned salt
1 teaspoon ground black pepper
3 tablespoons butter
1 onion, diced or cut into rings (I did both)
1 portobello mushroom, diced
2-3 tablespoons beef broth
Slider rolls
Lia Marie's garlic spread.
Instructions
Preparing the Beef

Add the ground beef, worcestershire sauce, pepper sauce, cheese, 1 teaspoon seasoned salt, and pepper to a bowl.
Mix together using clean hands.
Form into small, roundish hamburger patties, the size of a slider roll.
Heat skillet over medium heat.
Add the hamburger patties to the pan.
Cook on each side for about 7 minutes, browned on both sides.
Remove from pan and drain on a paper-towel lined plate.
Drain the grease but do not clean the pan.
Add the butter to the pan and leave on medium heat.
Add the onions and 1 teaspoon seasoned salt and cook for 2-3 minutes.
Add in the portobello mushrooms and continue to cook for another 2-3 minutes.
Place the hamburger patties back in the pan, pour in the beef broth, and reduce the heat to low.
Cook for another 10 minutes, allowing the juices to soak into the hamburger meat.

Preparing the Sliders

Set the oven to low broil.
Spread Lia Marie's garlic spread on both sides of the slider buns.
Broil for about 2 minutes, keeping a careful eye on the buns so that they do not burn.
Add a hamburger patty, grilled onions, and portobello mushrooms to each of the slider rolls.
Serve with your choice of condiments and toppings.
http://cookingformykids.com/2012/07/10/summer-cooking-recipe-beef-portobello-and-grilled-onion-sliders/