As I have mentioned many times, I am not crafty.  That is one of the many reasons that I love Pinterest.  I can find things there all in one place without having to spend hours searching and searching and searching.  So, when I decided to plan this book theme party for Gabriel, I knew where to start.  I found some great ideas that allowed me to take off from there.
I thought that this was a great idea for a party.  It was simple and fun.  And, you could also change things up and make it a theme for a baby shower, as well, and have everyone bring a book, instead of a card, for the new mommy to be.
Here are some of the things that I did to make it special for my oldest boy.
The first thing that I did was make mini book jackets.  I searched for images of some of Gabriel's favorite books.  I copied the image onto the right hand side of a 2×4 mailing label.  Then, I cut out some card stock paper slightly larger than the 2×4.  I put the label on top of the card stock and folded it in half.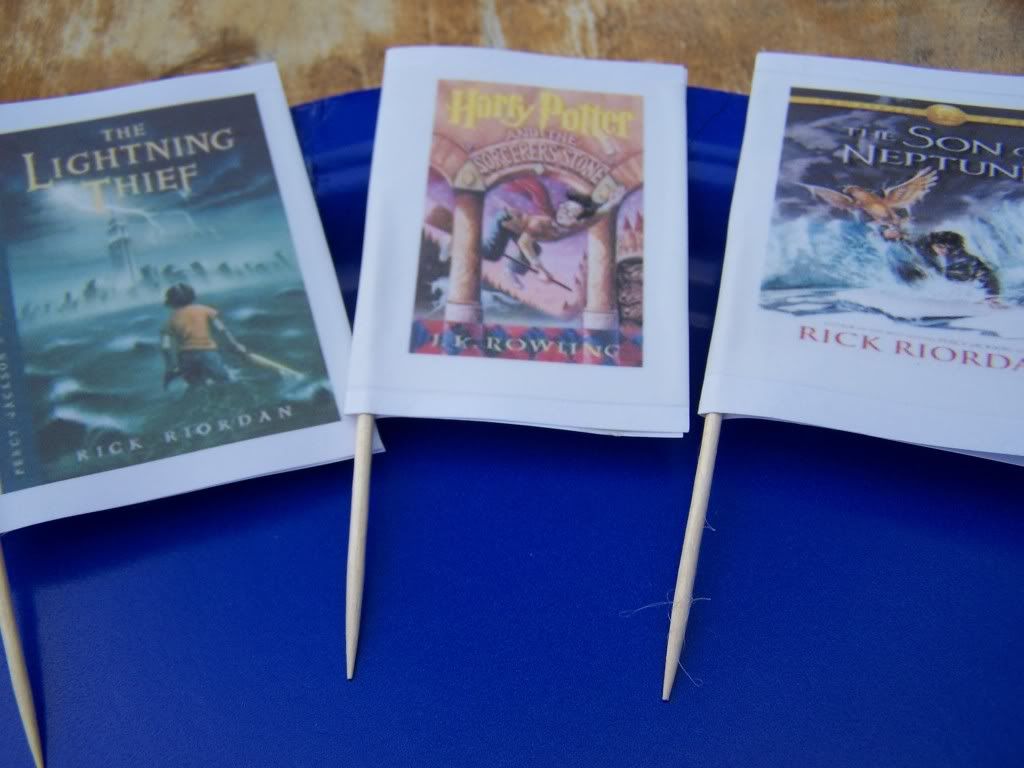 I made two of these book wreaths.  They were so simple to make.  I just bought the plain wreath at Michaels, wrapped it in ribbon, and then hot-glued the little book jackets all over it.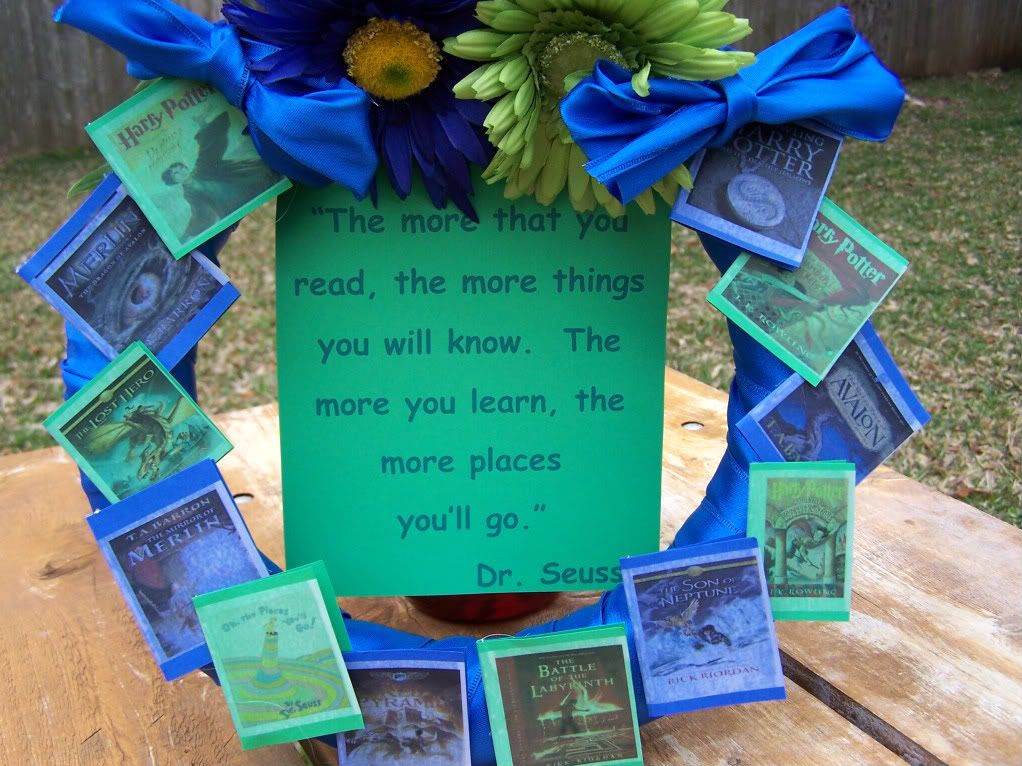 I also used the book jackets as cookie toppers by hot-gluing a toothpick in the middle of the folded jacket and then pressing down so that the toothpick was firmly in the center.
We used two quotes for the party.  One was a Dr. Seuss quote, ""The more that you read, the more things you will know. The more that you learn, the more places you'll go."  And, the other one was, "Today a reader.  Tomorrow a leader." To incorporate those quotes, I did a couple of things.  I bought frames at Michaels, painted one blue and one green (the colors of the party), printed out the quotes on card stock, and slipped them into the frames.  I displayed the frames on the dessert and food tables.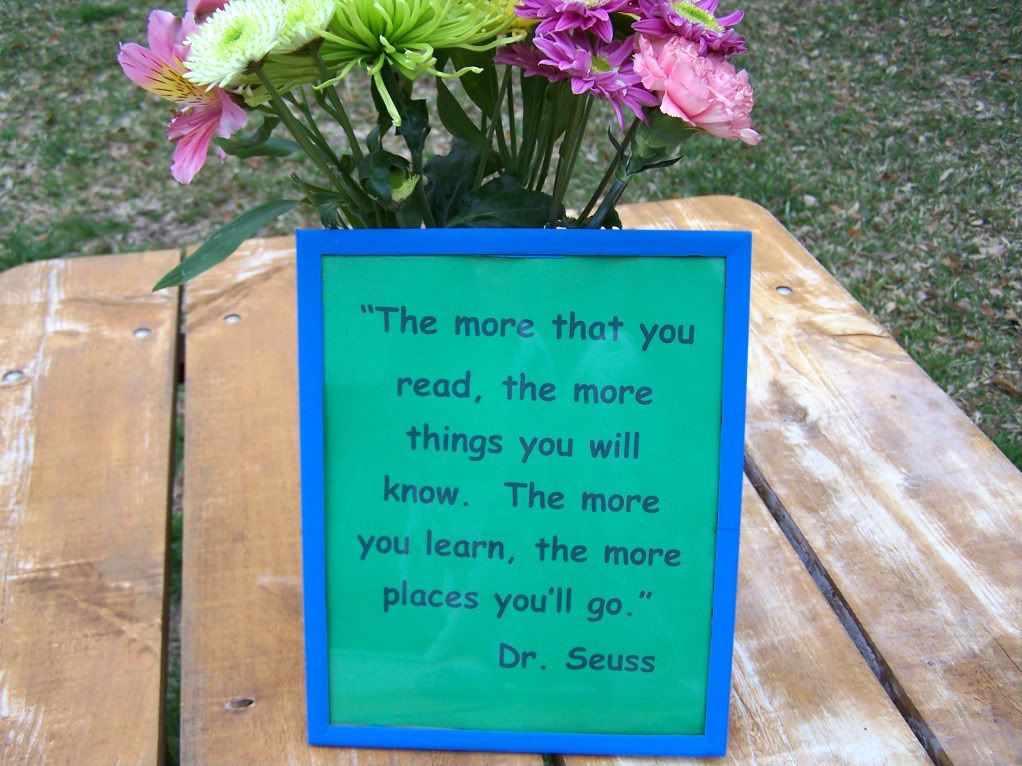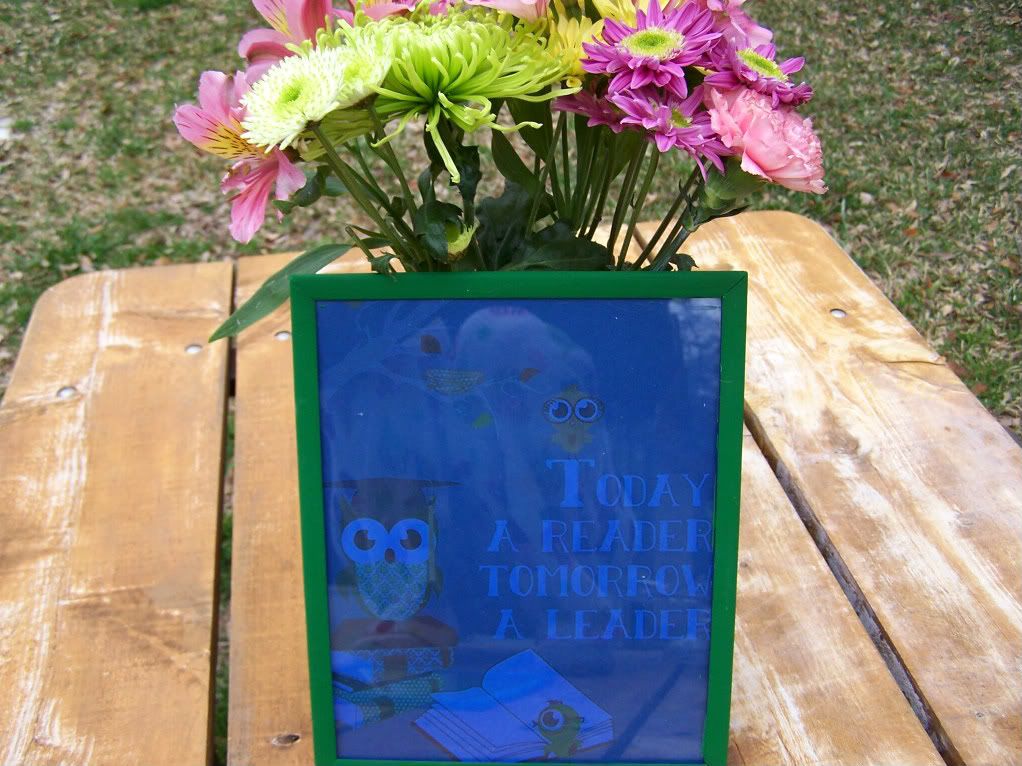 Also, my mom made these incredibly adorable book tote bags.  She embroidered the Dr. Seuss quote on them.  I thought that they turned out great, and it was a perfect goody bag.  She also made each of them a little bookmark to go inside.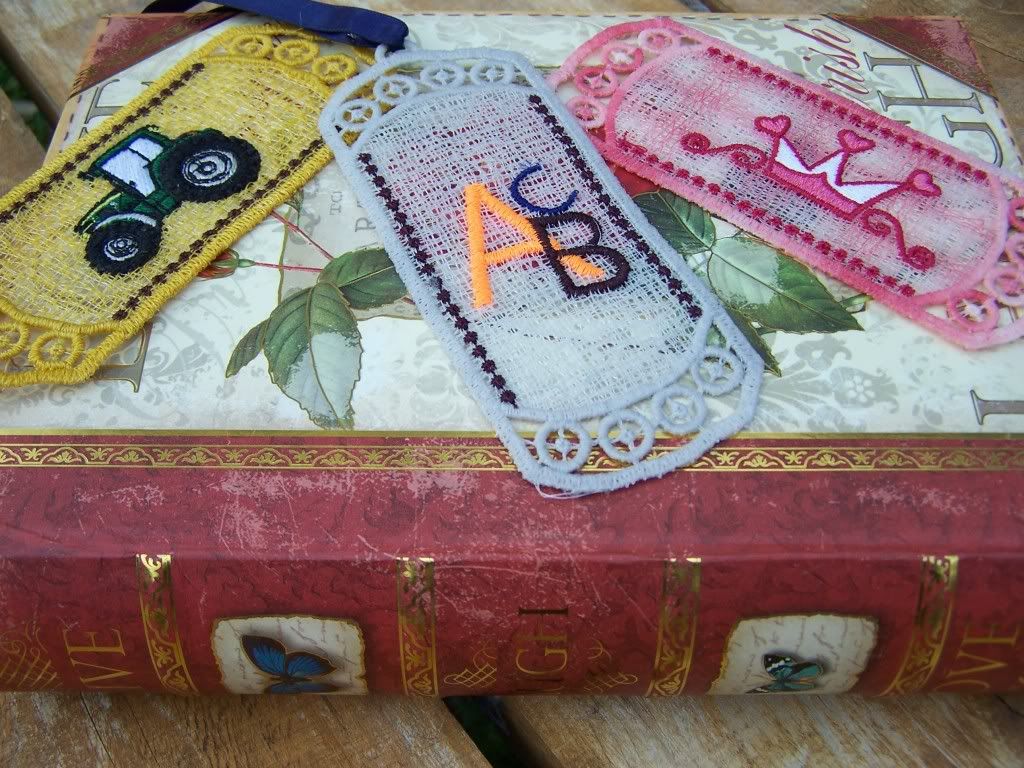 For the dessert table, I bought these little candy jars, filled them with blue and green candy, tied a ribbon around them, and put the "Today a Reader. Tomorrow a Leader." quote in the center of the ribbon.
We used blue and green everything – plates, streamers, ribbons, plates, napkins.  I wanted everything to look pretty and be filled with his favorite things.  My dad helped  me to make this beautiful ceiling decoration in the sun room.  We used plastic table clothes.  I tied a knot at one end to make it puffy in the center, and then we pulled it across the ceiling and taped it.  We used four long table cloths.  We cut the other two in half to cover the shorter part of the ceiling.  To finish it off, we taped together the seams that were not overlapping so that blue and green covered the ceiling.  It looked quite beautiful when we walked into the sun room.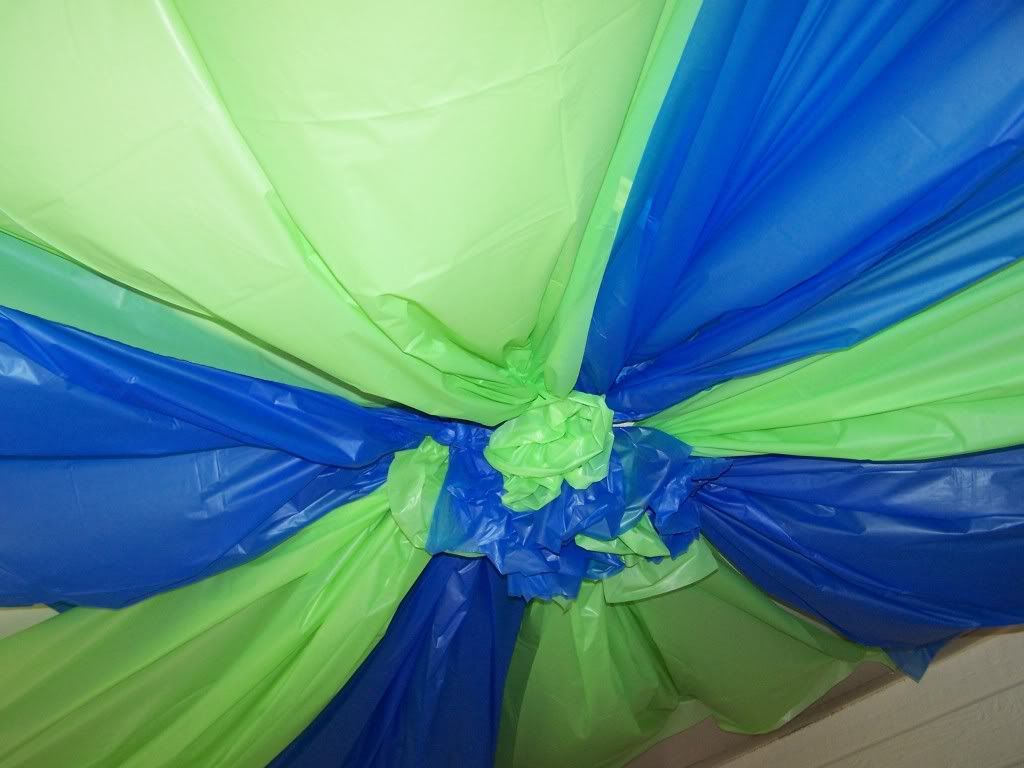 I had planned to put books all over the food tables, but I ran out of room.  I did use this one book that I found at Michaels.  It is actually a little storage box.  I just could not resist what it had written on the spine of it – Live, Laugh, Love.  I thought that the words were perfect to tie everything together for an amazing boy on his special day.
I shared this post at Someday Crafts, Ginger Snap Crafts, Creations by Kara, Sugar and Dots, Polkadots on Parade, My Girlish Whims, Our Delightful Home, Not Just a Housewife, Chef In Training, Sugar Bee Crafts, 33 Shades of Green, Funky Polkadot Giraffe, Permanent Posies and Reasons to Skip the Housework.