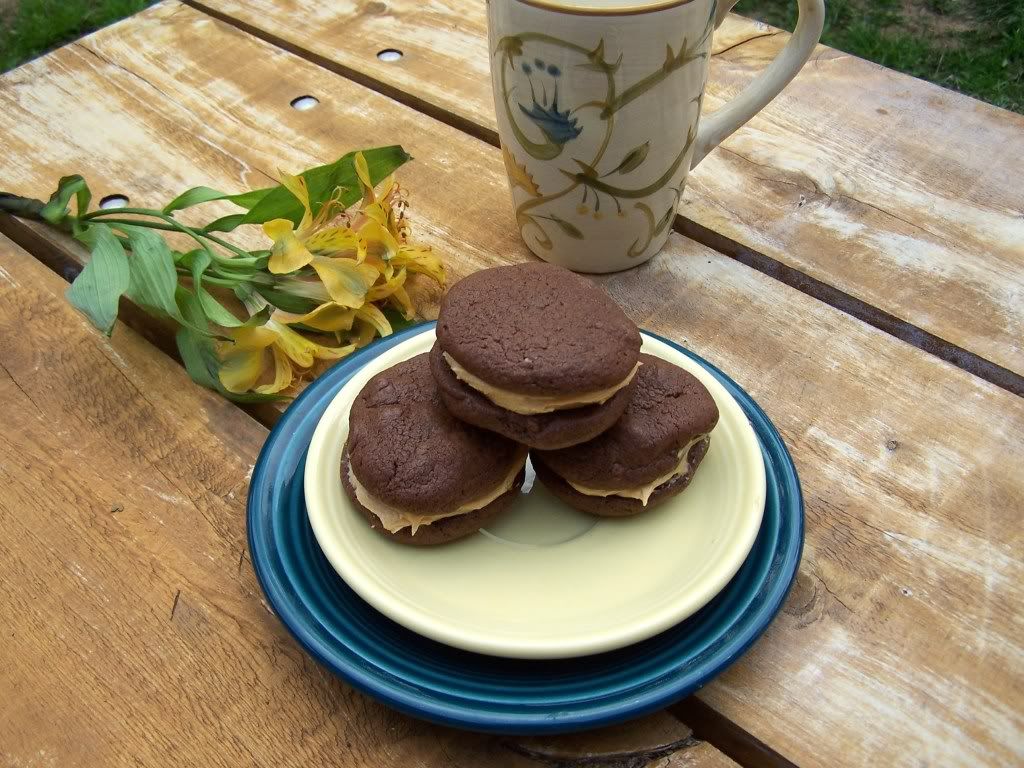 Happiness is FRIDAY!!
Happiness is a birthday weekend with family.
Happiness is my oldest little, who will be 9 on Sunday.  He made me a momma and has brought me more joy than I ever could have imagined.
Happiness is lovely early spring weather.
Happiness is spring break in just one week.  Whoop!
Happiness is getting ready to take a picture of my girl and hearing, "Wait, I need my handsome prince in the picture, too!"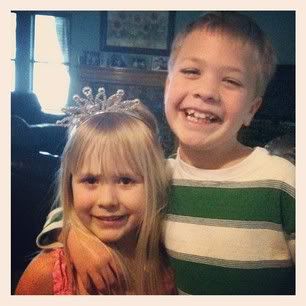 Happiness is Instagram.  I love pretending to be a good photographer…and also just taking the time to document little life events each day.
Happiness is hearing my oldest little, the almost birthday boy say, "Momma, I love chocolate and peanut butter.  It is my favorite food combination."
So, of course, I had to make a Thursday cookie for him.  After seeing Maria's Peanut Butter Oatmeal Sandwich cookies at Two Peas & Their Pod, I knew that I would use her peanut butter filling because I have made several of her recipes, and they are all absolutely delicious.  In looking for a chocolate sandwich cookie, I found Giada's Chocolate Sandwich cookie.  The combination was perfect, and it brought a huge smile to my sweet oldest boy's face, which made me very, very happy.
Chocolate Peanut Butter Sandwich Cookies
Ingredients
Chocolate Sandwich Cookies
1 cup plus 2 tablespoons all-purpose flour
1/3 cup unsweetened cocoa powder
1/2 teaspoon baking powder
1/2 teaspoon baking soda
1/4 teaspoon fine sea salt
1/2 cup unsalted butter, softened
1/2 packed cup light brown sugar
1/2 cup sugar
1 large egg
1/2 teaspoon pure vanilla extract
1/2 cup semi-sweet cookies
3 tablespoons unsalted butter, at room temperature
1/2 cup creamy peanut butter
1 cup powdered sugar, sifted
3 tablespoons heavy cream
Instructions
Chocolate Sandwich Cookies

Preheat the oven to 325 degrees F.
Line 2 baking sheets with parchment paper.
In a medium bowl, whisk together the flour, cocoa powder, baking powder, baking soda, and salt.
Add the butter and sugars to a mixing bowl, and mix until fluffy.
Beat in the egg and vanilla.
Gradually add the flour mixture until just blended.
Stir in the chocolate chips.
Using a cookie scoop, form 12 equal-sized pieces of dough onto each baking sheet. With damp hands, form the dough into balls. Flatten the tops of the dough slightly and bake until the tops of the cookies begin to crack slightly, about 14 minutes.
Cool for 5 minutes, and then transfer the cookies to a wire rack to cool completely, about 20 minutes.

Peanut Butter Filling

Combine the butter, peanut butter and powdered sugar in the bowl of a stand mixer fitted with the paddle attachment. Beat until smooth.
Add the heavy cream and beat until light and fluffy.

Putting the Cookies Together

After the cookies have cooled, use a knife to spread the filling on the flat side of a cookie. Find a cookie the same size and sandwich the cookies together, pressing the filling to the edges.
Repeat with all of the cookies.
Enjoy with a glass of milk.
http://cookingformykids.com/2012/03/02/happiness-is-recipe-chocolate-peanut-butter-sandwich-cookies/
Have a happy weekend!
I shared this recipe at Everyday Mom's Meals, I Heart Nap Time, Mom Trends, Gingerbread Blog, Six Sisters' Stuff, Crazy for Crust, Something Swanky, Dwell on Joy, Whipperberry, Rattlebridge Farm, 30 Days, Ladybird Ln., Simply Sweet Home, Jennifer Cooks, Alli 'n Sons and Tidy Mom.