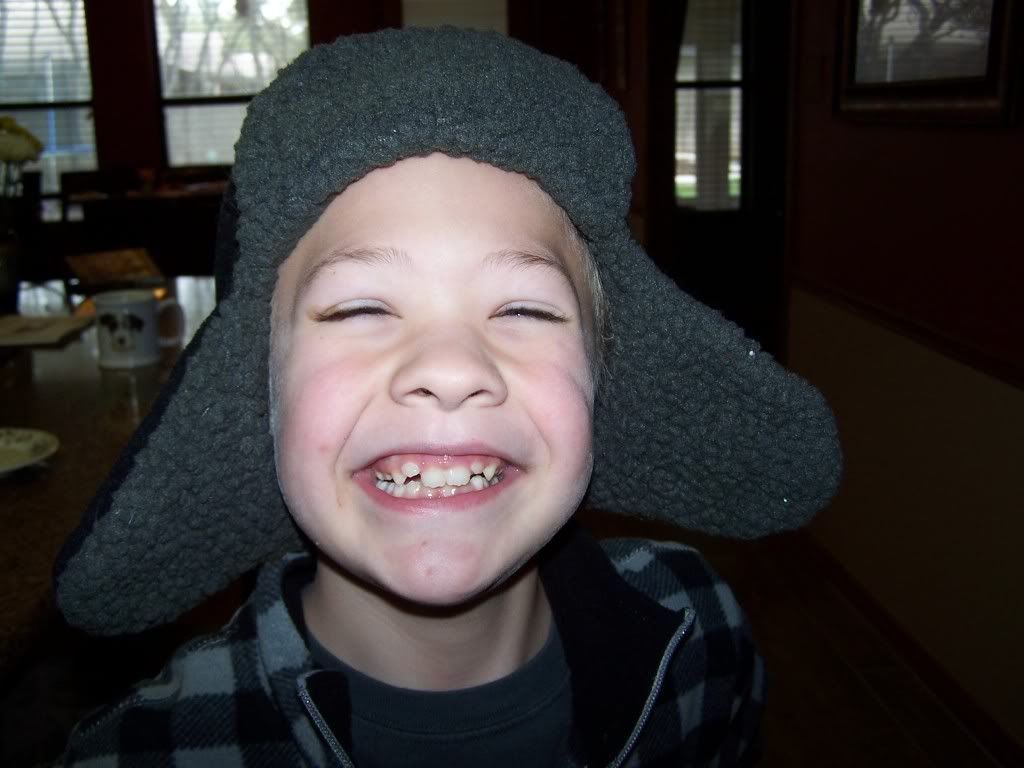 Ethan had a great week.  A truly great week.
He was healthy and back at school all week.  The only time that he missed was for his therapy sessions on Tuesday and Thursday.  He feels good, and he looks good.  We had some beautiful days, so the littles were all able to play outside for hours after school.  Fresh air, sunshine, natural vitamin D, running, jumping playing – those things are all great for Ethan.  And, when he is getting them, it shows.
Ethan was so happy to go back to Speech and Occupational Therapy this week.  He missed last week because of Valentine's Day and then his illness, so he was very happy to return on Tuesday.  The speech therapist starting working with him on the Proloquo2Go program on the iPad.  He picked up on it immediately.  He was telling her what he was eating for lunch and asking her to share her favorite things, as well.  It is great that he is really taking to that program because it is capable of so many things.  And, since our goal for next year is to get him an iPad for use at school, it would be huge if he can prove that he can communicate and learn better using the amazing technology that is available to him.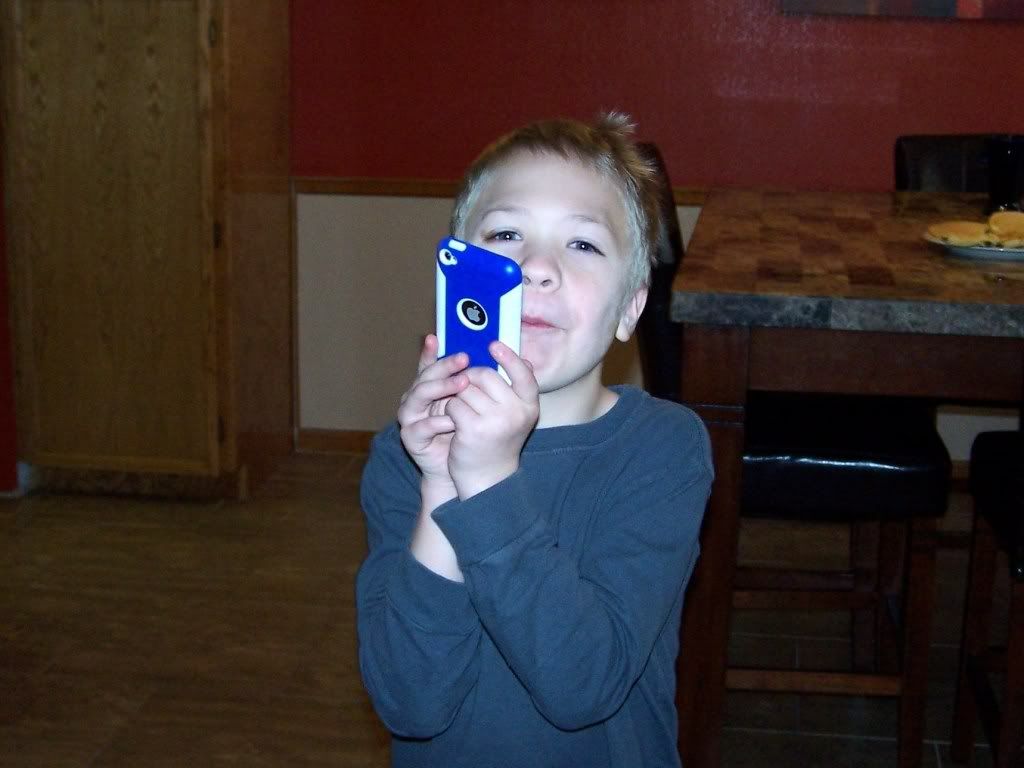 We are still having some problems with getting Ethan to write properly.  He knows how to write his letters, but he does not like to do it.  It is really one of the only main goals that we are missing for this year because he just has not been consistent enough to get good data proving that he can master that skill.  After talking to his OT, we agreed that Ethan is more than capable of writing if he wants to write.  So, she is going to continue to make that a focus of his therapy sessions, which is great.  I talked to his special education teacher, trying to determine what we are missing, and we both agreed that Ethan is very likely just bored with the activity.  He wants to move on to new, more exciting things.  Since he is getting the one-on-one instruction in OT, we feel like we can move the focus at school to other things for now.  He will still be writing, but he will write other things other than just his first name over and over.
Then, the best thing of all happened yesterday.  Thursday, in class, Ethan's instructional assistant gave him a copy of the alphabet.  He traced the letters, and then he wrote them all on his own….almost perfectly.  Actually, I look at it and see perfection.  So, we know that he can do it.  We celebrated at home last night, and Ethan was smiling from ear to ear.  This is a huge step because a year or so ago, we honestly did not know what Ethan's true capabilities were.  Now we know that he can do anything that he sets his mind to doing.  While we want him to find the motivation to do things even when he does not want to do them, we are thrilled by the fact that he can do them.  We can work on the motivation later.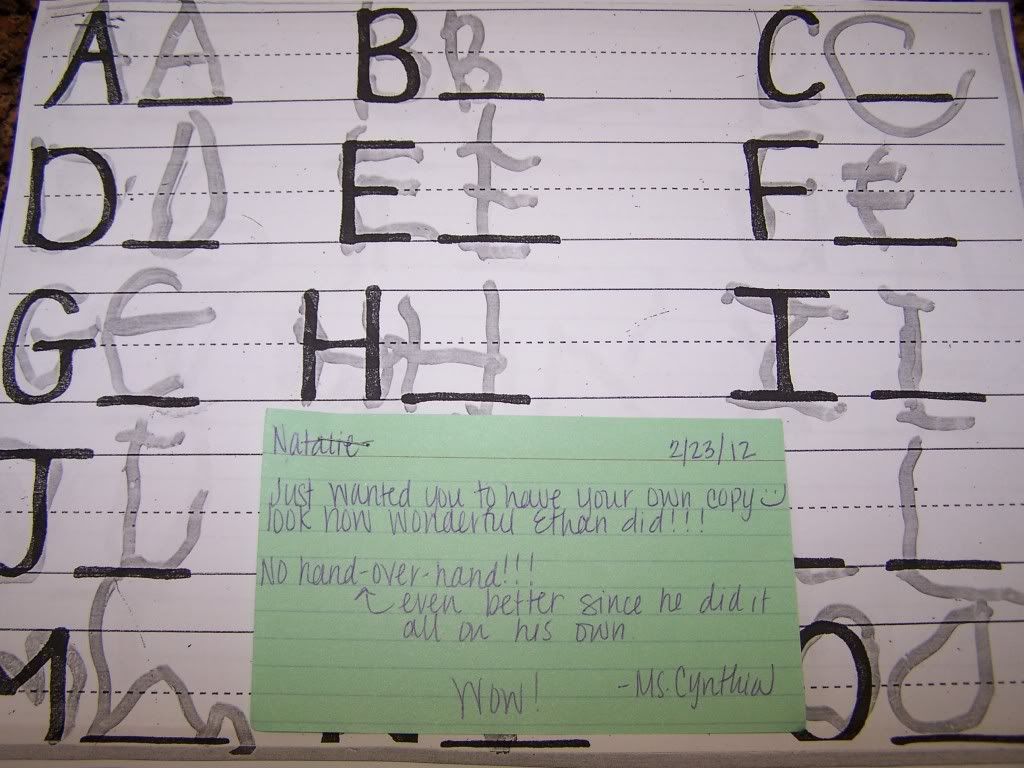 A perfect ending to the week was eating lunch with Ethan yesterday and then talking to his teacher about his week.  She said, "Ethan was so funny during flashlight Friday today.  He made the rounds from one group to the next.  He would see what they were doing, sit for awhile, and then move on."  Yes, he is our little social butterfly.  And, we are so happy that he likes to socialize, to spread his joy, and to touch others with his magic.
I look at Ethan, and I smile.  Other people look at Ethan, and they see a little boy who is filled with laughter and joy.  Yes, God knew what he was doing when he created my youngest boy.  If there was one thing that I could wish for other people, it is that they have the same joy and happiness in their lives as what Ethan has given our family.  Each and every day, when we do our nightly Cheers, we all laugh and smile.  It does not matter what kind of day we have had, what kind of mood we are in, when Ethan lifts his cup and says, "Cheers!", we all raise our cups and smile.  Oh, yes.  Ethan is pure magic.