Happiness is birthday celebrations.  One last night, one this Sunday, and another one next Sunday.
Happiness is flowers. My girl loves picking them, and we both love buying fresh ones from the store.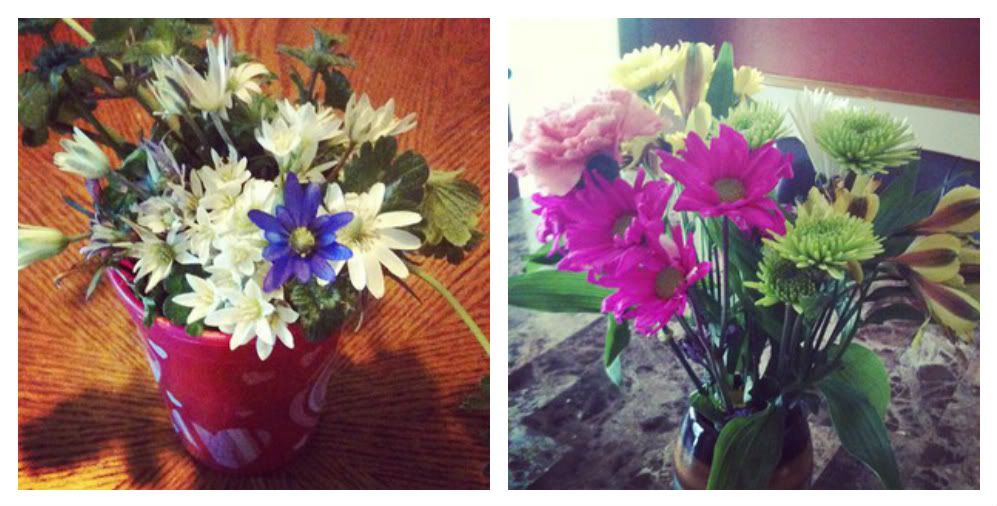 Happiness is memories…especially ones associated with food, family, and fun.
Happiness is healthy children.  After a week of one after the other getting sick, everyone was healthy this week.
Happiness is having so many people on Team Ethan who truly believe in him.
Happiness is a weekend of working in the yard, soccer, birthday parties, and family in town.
Happiness is this delicious Strawberry Cream Cheese Pie. I am not sure where the recipe originated because we have been making a version of it since I was a child.  We typically used canned pie filling, but I forgot to buy it at the store.  So, I made my own strawberry filling this time.  And, it turned out just as great.  One bite of this pie is pure happiness, especially when the pie is the dessert to celebrate a special birthday.
Mini Strawberry Cream Cheese Pie
Ingredients
Cream Cheese Filling
1 14 ounce can sweetened condensed milk
1 package cream cheese
1 teaspoon vanilla
1/2 cup fresh lemon juice
Strawberry Glaze
1/2 cup strawberries, chopped
1/4 cup sugar
1/2 cup
1 tablespoon cornstarch
1 tablespoon water
Crust
Pepperidge Farm Coconut Cookies
Instructions
Preparing the Cream Cheese Filling

Add the cream cheese and condensed milk to the mixer. Blend until smooth.
Pour in the vanilla.
Slowly mix in the lemon juice.
Continue to mix until smooth and combined.

Strawberry Glaze

Add the strawberries, sugar, and 1/2 cup water to a saucepan.
Cook over medium high heat for 10-15 minutes.
Reduce heat to medium low.
Mix together the cornstarch and water.
Slowly add to the strawberry mixture, stirring quickly as it thickens.
Immediately remove from heat.
Refrigerate.

Putting It All Together

Place cupcake liners in muffin pan.
Place a cookie on the bottom of the liner.
Add a scoop of the cream cheese filling.
Repeat with all 12 liners.
Refrigerate for at least 2 hours.
Before serving, add the strawberry glaze to the top.
http://cookingformykids.com/2012/02/24/happiness-is-recipe-strawberry-cream-cheese-pie/
+
Have a happy weekend!
 I shared this recipe at Dwell on Joy, Whipperberry, Rattlebridge Farm, 30 Days, Ladybird Ln., Crazy for Crust, Mrs. Fox's Sweets, Jennifer Cooks, Alli 'n Sons, Miz Helen's Country Cottage, Something Swanky, It's a Keeper, Fireflies and Jellybeans, Domesblissity, Tidy Mom, A Little Nosh and Mom Trends.