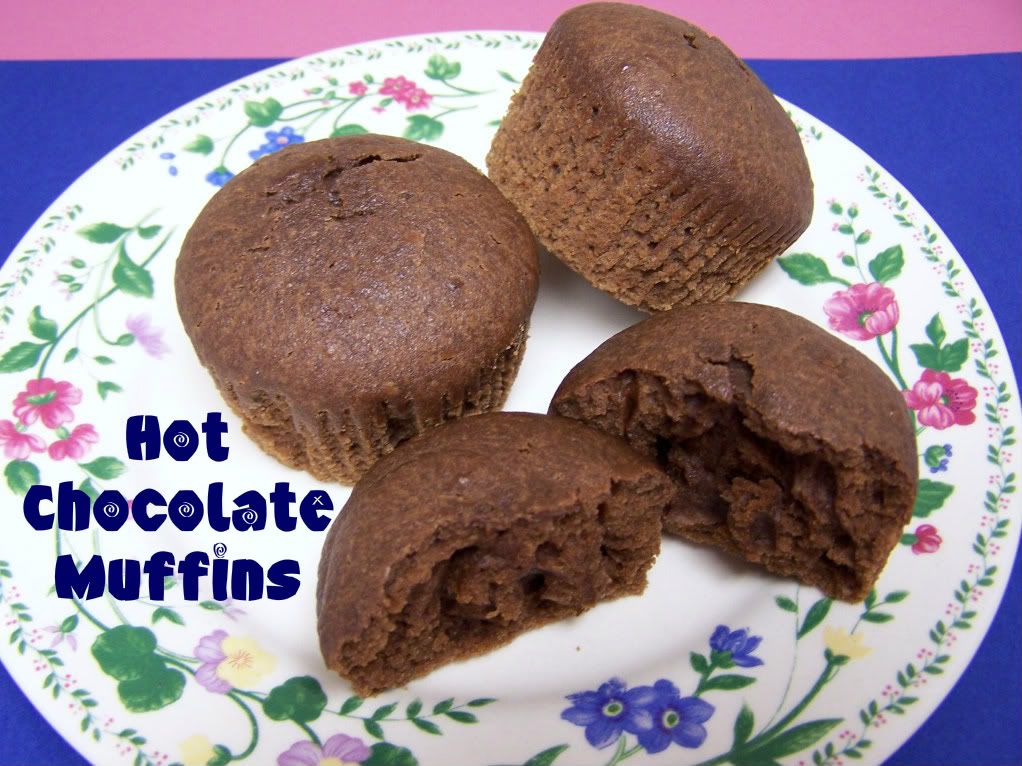 Summer and I had a mall date today.  She has been asking for one for about three weeks.  Last night as I was making my to-do list, I decided that it would be a perfect day for a mall lunch with my little girl.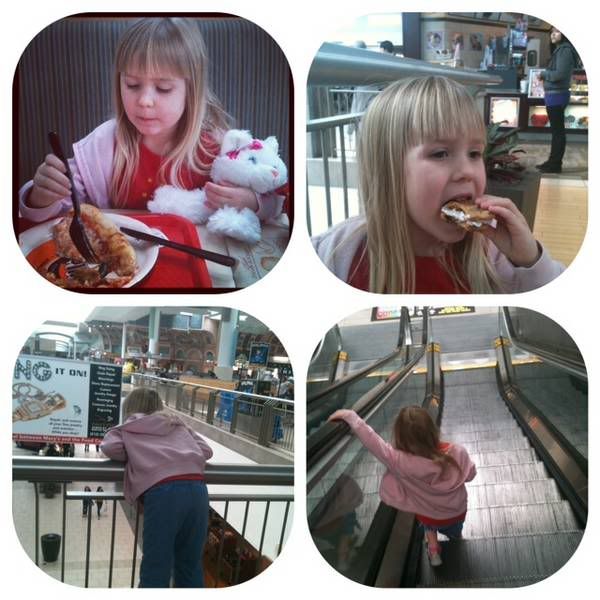 We had a great day, and I enjoyed spending time with Summer. But, I also missed the boys.  Since they were sick last week, we had a four day weekend together, and it was nice.  Needless to say, I was very excited to see their smiling faces after school today.
I have a friend who understands me, who empathizes with me when I miss my littles so much.  Not only is she a sweet friend and an amazing mom, but she also has a fantastic blog.  If you have not visited Dine & Dish, you really should.  I have known Kristen for almost five years, and I can tell you that she is as sincere and genuine in real life as she is on her blog.  Read just one post, and you will find yourself looking as forward to the next one as I always do.
When I saw these Cafe Escape Dark Hot Chocolate Muffins over on Kristen's blog, I knew that they would be making an appearance on our breakfast table very soon. And, I am so happy that they did.  I very slightly adapted them based on what I had in my pantry and refrigerator.  This was a perfect muffin to enjoy on a lazy Saturday morning while we drank coffee and tea, soaking in the weekend moments when we are all together all day as a little family of five.
Ingredients
2 2/3 cups all-purpose flour
1 1/2 cups sugar
1/2 cup baking cocoa
1 1/2 teaspoons baking soda
1/2 teaspoon salt
3 eggs
1/2 cup sour cream
1/2 cup Philadelphia cooking cream cheese
1 cup hot chocolate, brewed
1/2 cup canola oil
1 teaspoon vanilla extract
Strawberries, diced, optional
Chocolate chips, optional
Instructions
Preheat oven to 325 degrees.
Prepare 12 cup muffin pans by lining with cupcake liners.
In a large bowl, beat the eggs, sour cream, cream cheese, brewed hot chocolate, oil and vanilla.
In a separate bowl, mix together the flour, sugar, cocoa powder, salt, and baking soda.
Continue beating the wet ingredients while slowing adding the dry ingredients Mix until well blended.
Spoon muffin batter into prepared muffin cups.
Bake for 20-25 minutes.
Cool for 5 minutes before removing.
http://cookingformykids.com/2012/02/21/the-heart-of-a-momma-recipe-hot-chocolate-muffins/
I loved these muffins so much that I made them on a Saturday, reserved some of the batter for Sunday, and had them again with the addition of some strawberries and milk chocolate chips.
Enjoy!
I shared this recipe at Crazy for Crust, Nap Time Creations, Chef in Training, 33 Shades of Green, Permanent Posies, Blessed with Grace and Mandy's Recipe Box.