I feel like I should preface this post with acknowledging that I know that my crafts are not perfect and my pictures need improvement.  I have never had the talent to make things appear in real life the way that they look in my head.  My camera is not fancy, and my house does not have a ton of natural light.
But, I believe that I make up for all of that in the enthusiasm that I bring to every project that I complete.
And, even more than that is the joy that my crafts, my pictures, and my food brings to my children.  Yesterday, when Summer said, "Momma, I love getting ready for the holidays.", I knew that everything that I do to try to make all of the celebrations, both big and small, special is working and oh-so worth it.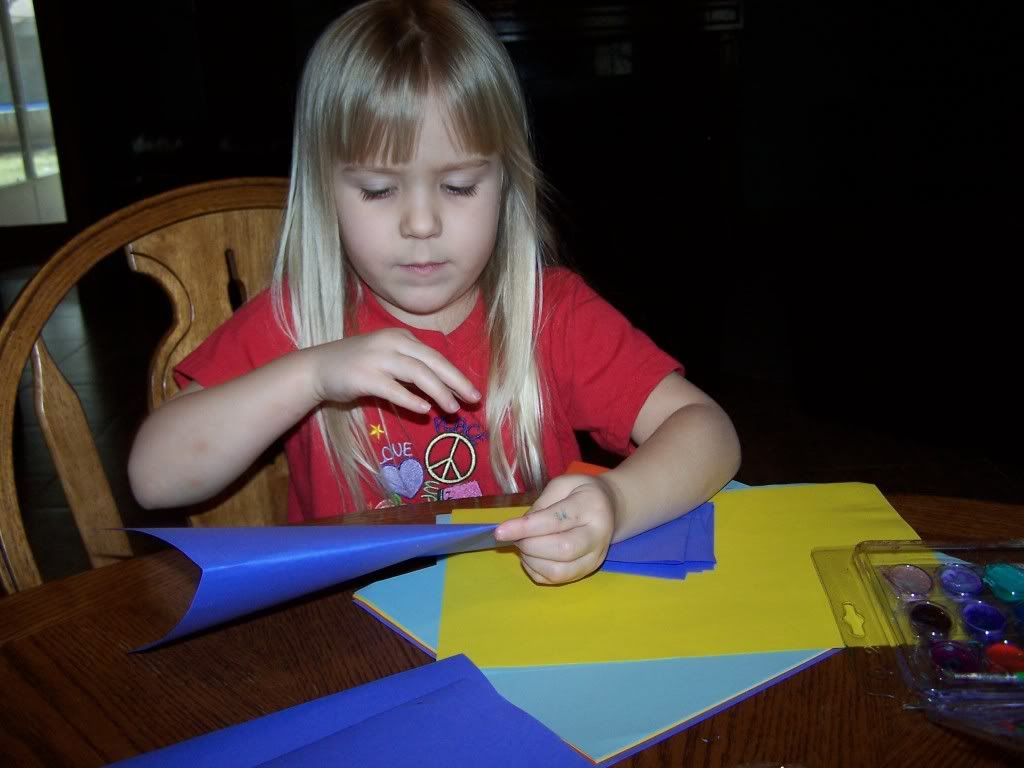 My littles do not care one little bit about perfection.  They care about joy, happiness, and special memories.  I know that they will look back at pictures and smile. They will not see the imperfections. They will immediately see the memories. Oh, to see the world through their eyes.
So, Summer and I spent the day getting the house decorated for love month.  We put stickers in the windows, which was such a hit that we had to buy more so that Ethan could do some after speech therapy.
And, we made these Valentine mailboxes.  We decorated one for each member of the family.  For the next 14 days, anyone can put trinkets, notes, candy, etc. into the mailbox.  Then, we raise the flag to indicate that there has been a delivery.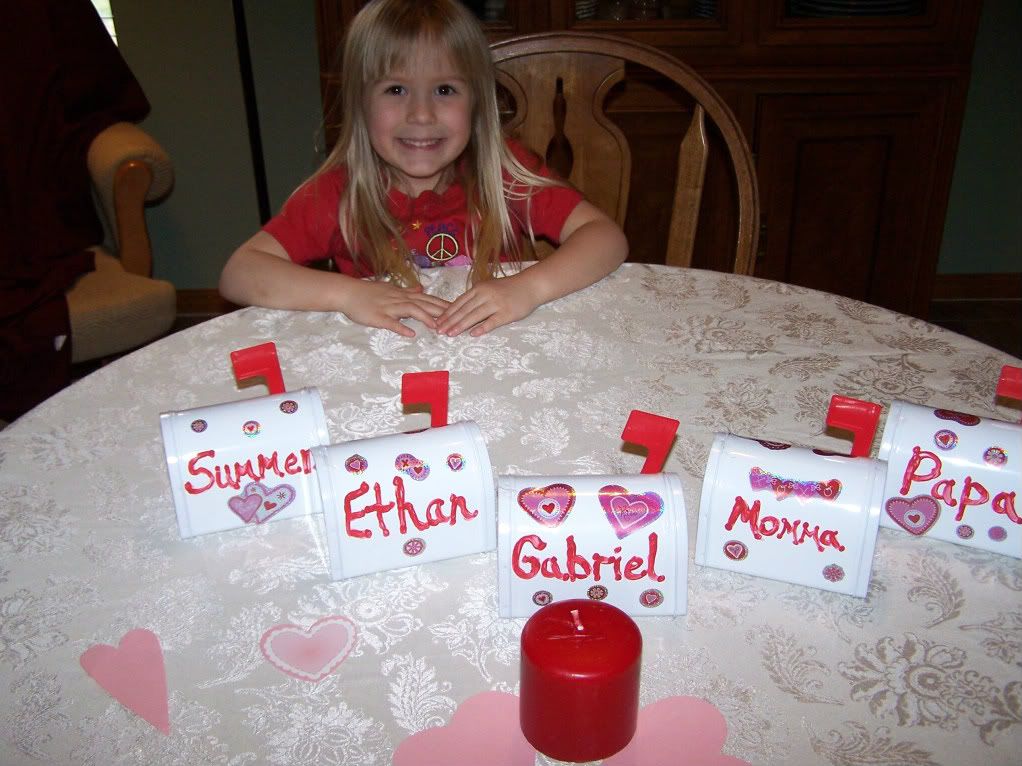 They are so excited.  My sweet husband immediately got into the action last night.  I saw him going through his work bag, where he keeps candy for the littles.  He wanted to make sure to leave them some mail for the day.  That is just one of the zillion reasons why I love that man.
Another reason is because he always appreciates my creations.  Last Friday I wanted to prepare a special snack for the littles.  It all started with a cross between Chex Mix and Caramel Corn.  The end result was a mixture of Chex cereal, popcorn, cookies, and a caramel peanut butter sauce.   It was delicious – perfect for a Valentine's Day party at school or even a yummy Super Bowl snack.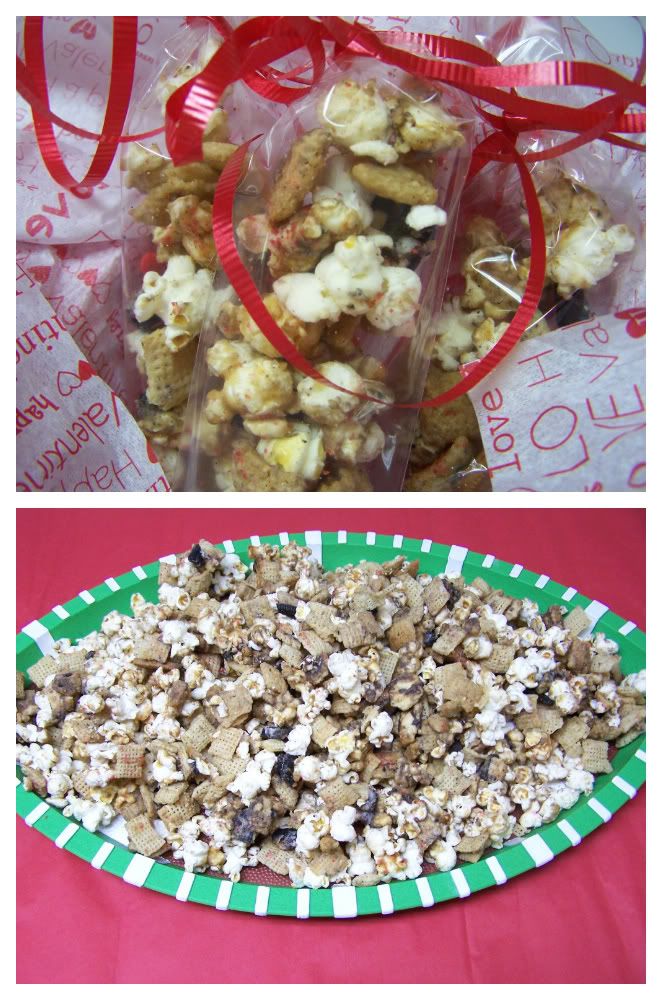 Cookies 'n Stuff Chex Mix
Ingredients
3/4 cup brown sugar
3/4 t cinnamon
1/4 C Karo syrup
1 stick real butter (1/2 C)
1/4 cup peanut butter
1/2 tsp. baking soda
1 tsp. vanilla
10-12 cups popped popcorn (about 1/2 cup kernels)
6 cups Rice Chex Mix
6 chocolate Oreos, crushed
6 golden Oreos, crushed
10 fudge striped cookies, crushed
3 Reese's Peanut Butter Cups, chopped
Instructions
Preheat oven to 250 degrees.
Prepare a baking pan by lining it with parchment paper.
Place popcorn, Chex cereal, crushed cookies, and chopped Reese's Peanut Butter Cups into a large bowl, mixing slightly.
Add butter, Karo, brown sugar, peanut butter and cinnamon to a sauce pan, and cook over medium high heat.
Bring to a boil, and continue to stir it until it thickens slightly.
Remove from heat, and add the baking soda and vanilla. This mixture will bubble slightly, so make sure that your sauce pan is big enough.
Pour the mixture into the bowl, and mix it together, coating all of the dry mix.
Pour it onto the baking sheet, and bake for 30 minutes, stirring every 10 minutes.
Remove from oven, and allow it to cool.
Notes
I sprinkled some red sugar and hearts into the mixture to make it more festive. This mix is not the same consistency as caramel corn. If you want it to be a bit stickier, you can double the wet ingredients or reduce the dry ingredients, according to your preference.
http://cookingformykids.com/2012/02/01/happy-love-month-recipe-cookies-n-stuff-chex-mix/
Enjoy!
I shared this recipe at Lil' Luna, Mrs. Fox's Sweets, The King's Court, Polkadots on Parade, This Chick Cooks and Lady Behind the Curtain.