We have been having spring-like weather here in Texas.  And, the littles have been loving every minute of it.
We all spent most of the day outside on Saturday.
For Sean and I, there was a lot of yard work involved, raking up the fall leaves before the spring ones decide to fall.
For the littles, there was a lot of playing and jumping into leaf piles.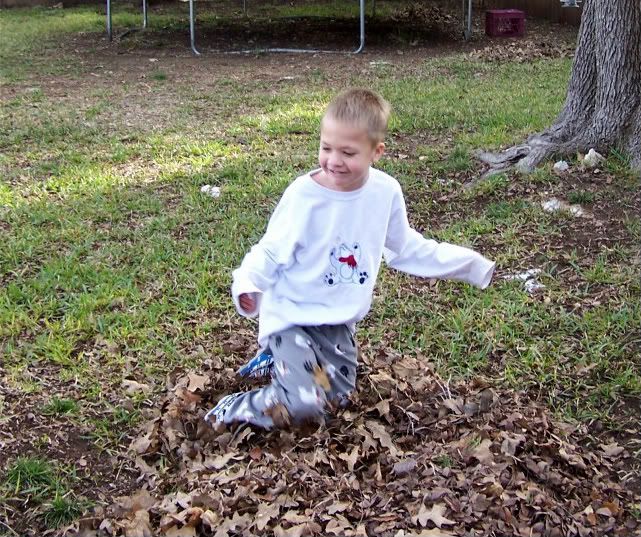 At first, my instinct was to not let them jump in the piles and spread the leaves that I had just raked.
I am so happy that I changed my mind.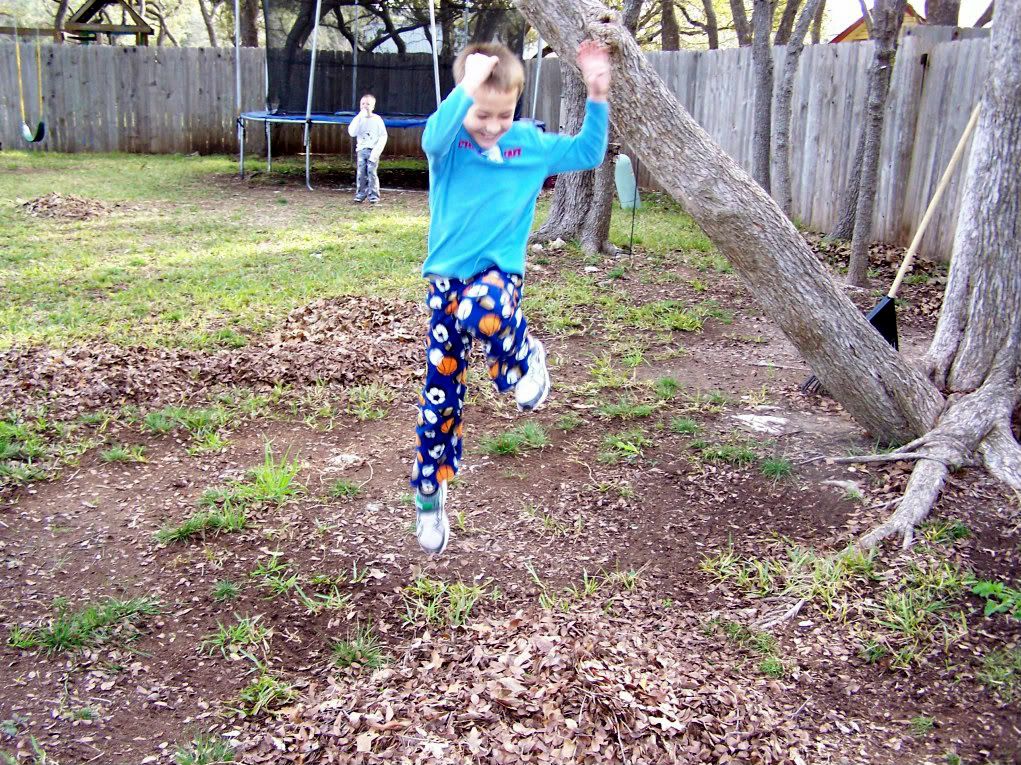 Leaf piles are made for jumping.
And, the looks on their faces was just priceless.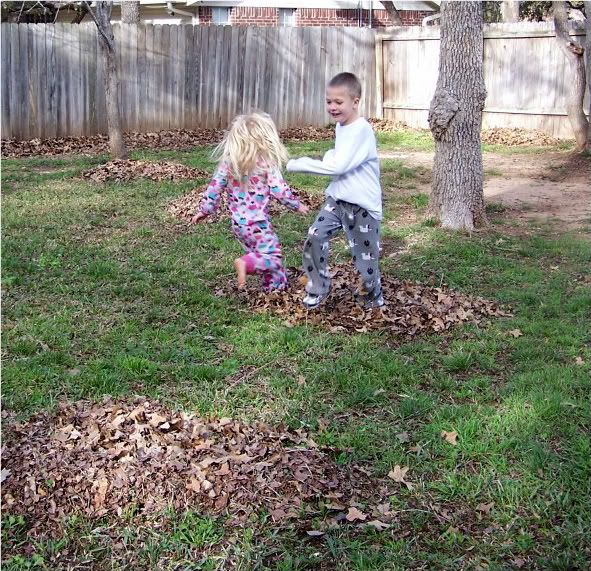 A simple afternoon of raking leaves created such sweet memories.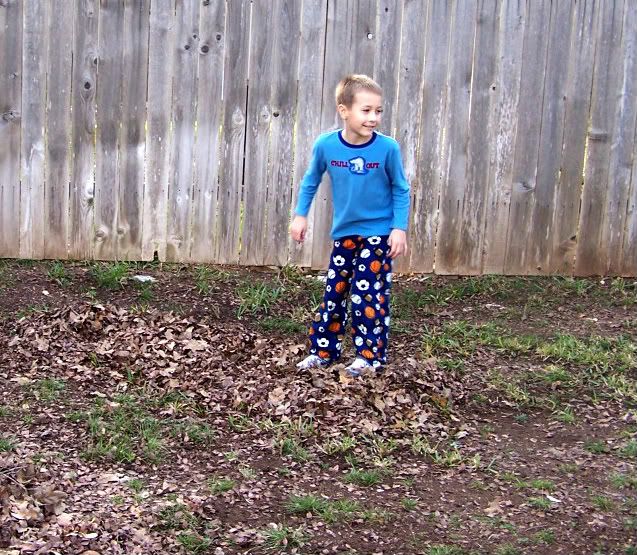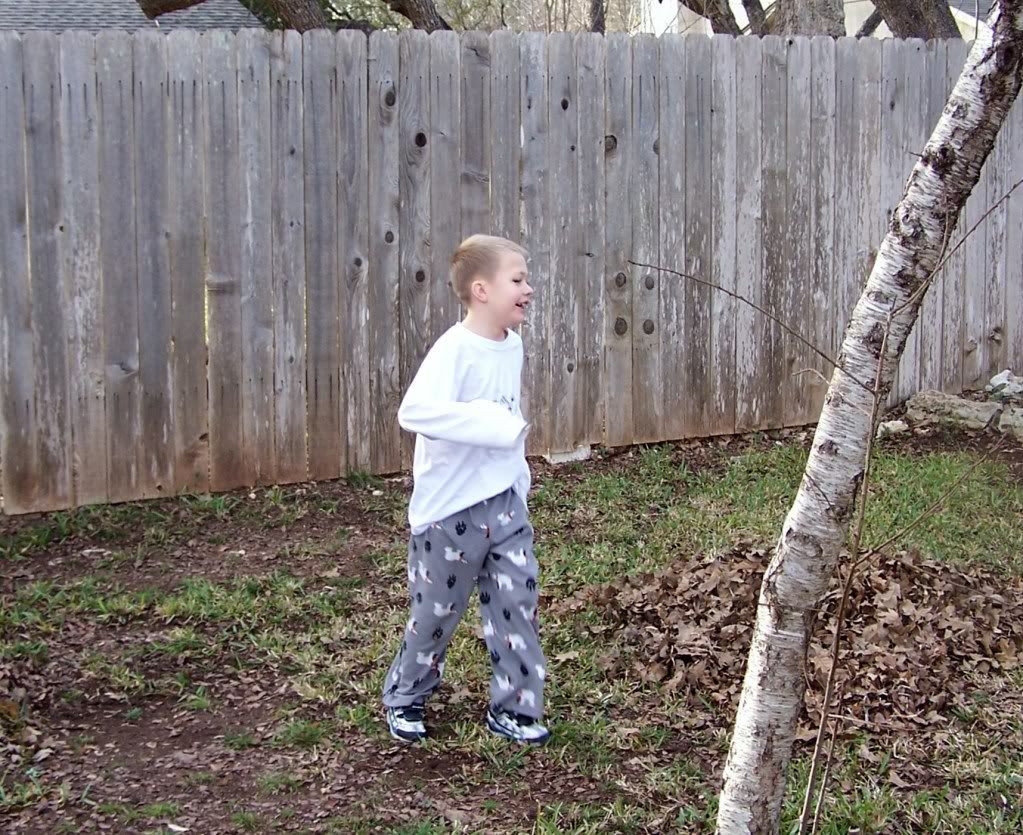 Raking leaves is hard work, so I am so glad that I had the laughter and smiles of my littles to keep me motivated to finish the job at hand.  And, I was also happy that we started the day with this mid-morning breakfast.  I used the sour dough bread that my wonderfully talented mother made and created a cream cheese topping, strawberry sauce, and homemade whipped cream.  It was absolutely perfect for a Winter-Spring day.  And, since it is red and white, it would be lovely for a special Valentine's Day breakfast, too.
Strawberry Cream Cheese French Toast
Ingredients
French Toast
6 slices of sour dough bread or your favorite French toast bread
2 eggs
2 tablespoons milk
1 teaspoon vanilla
1 teaspoon ground cinnamon
4 tablespoons butter
Cream Cheese Spread
1 package cream cheese
1/4 cup sugar
Strawberry Sauce
1 cup strawberries, diced
1 cup water
1/4 cup sugar
Whipped Cream
1 pint heavy whipping cream
1/4 cup sugar
1 teaspoon vanilla
Instructions
Preparing the French Toast

Whisk together the eggs, milk, vanilla, and ground cinnamon.
Dip the bread into the egg mixture, making sure to coat each side.
Melt butter in large cooking pan over medium high heat.
Add the bread to the pan, cooking for about 3-4 minutes on each side.
Remove from the pan and place on a serving plate.

Preparing the Cream Cheese Spread

Add the cream cheese and sugar to a mixing bowl.
Whip together for about 2-3 minutes.
Remove from the mixing bowl and place in a serving bowl.

Preparing the Strawberry Sauce

Add the strawberries, water, and sugar to a small saucepan.
Cook over medium high heat for about 10 minutes.
Reduce heat to low until ready to serve.

Preparing the Whipped Cream

Add the whipped cream to a bowl, and start whipping with an electric mixer.
Gradually add the sugar and vanilla, and continue to whip for about 10-15 minutes, until fluffy peaks begin to form.

Putting it All Together

Place one slice of French Toast on each plate
Spread a layer of cream cheese spread on one side of each slice of toast.
Drizzle the strawberry sauce over the top.
Add a scoop of whipped cream.
http://cookingformykids.com/2012/01/23/winter-spring-days-recipe-strawberry-cream-cheese-french-toast/
Enjoy!
I shared this recipe at Cooking with Karyn, Delightfully Dowling, The Girl Creative, A Southern Fairytale, Homemaking Haven, Mrs. Happy Homemaker, Make-Ahead Meals, Frugal Antics and Add a Pinch.