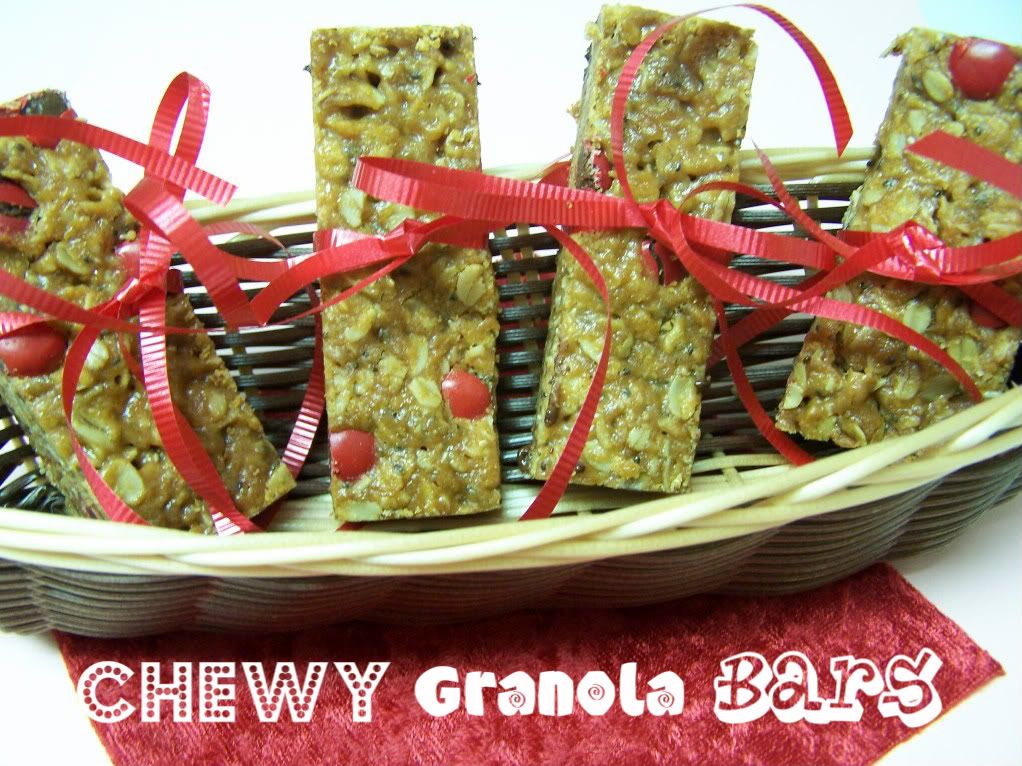 As I have mentioned before, my littles are not big breakfast eaters.  So, that leaves me always trying to find something that they will eat that has some nutritional value each morning.  After buying some granola bars for my husband last week, I decided that I could make them because they would likely be A) Better, B) Healthier, and C) More Inexpensive.
We were all pleased with the results.  The first batch lasted one day.  So, I made another batch a few days later.  They are delicious and can be served as an after-school snack, a healthier dessert option, or a quick breakfast.
I found the recipe at Smitten Kitchen.  From what I could tell, Deb has been blogging for around 5 years, and it is evidenced by her beautiful photography, thoughtful explanations, and amazing recipes.  I love everything about her blog, especially these Thick, Chewy Granola Bars.
Peanut Butter Chocolate Chip Chewy Granola Bars
Ingredients
1 2/3 cups quick rolled oats
1/2 cup granulated sugar
1/3 cup oat flour (or 1/3 cup oats, processed till finely ground in a food processor or blender)
1/2 teaspoon salt
1/4 teaspoon ground cinnamon
1/3 cup peanut butter or another nut butter
1 teaspoon vanilla extract
6 tablespoons melted butter
1/4 cup honey
2 tablespoons light corn syrup
1 tablespoon water
1/2 cup chocolate chips
1/4 cup M&M's, optional (to make them more festive)
Instructions
Preheat the oven to 350°F.
Line an 8? x 8? x 2? pan with parchment paper. Lightly spray the parchment paper with cooking spray.
Stir together all the dry ingredients.
In a separate bowl, whisk together the vanilla, melted butter, peanut butter, honey, corn syrup, and water.
Toss the wet ingredients with the dry until the mixture is evenly crumbly.
Gently mix in the chocolate chips.
Spread in the prepared pan, pressing them in firmly to ensure they are molded to the shape of the pan.
Bake the bars for 30 to 40 minutes (my oven took 40 minutes), until they're brown around the edges. They will seem soft and almost under-baked when you press into the center of the pan. But, do not worry, they will set once completely cool.
Cool the bars in their pan completely on a cooling rack.
Once cool, remove from the pan and gently slide from the parchment paper onto a cutting board. Use a serrated knife to cut the bars into squares.
Store in an airtight container..
http://cookingformykids.com/2012/01/11/saving-breakfast-recipe-chewy-granola-bars/
Enjoy!
I shared this recipe at Cooking with Karyn, Creations by Kara, Sugar and Dots Lil' Luna, Mrs. Foxs Sweets, The King's Court, Polkadots on Parade, This Chick Cooks, Remodelaholic, My Girlish Whims, Lady Behind the Curtain and Hugs & Cookies.