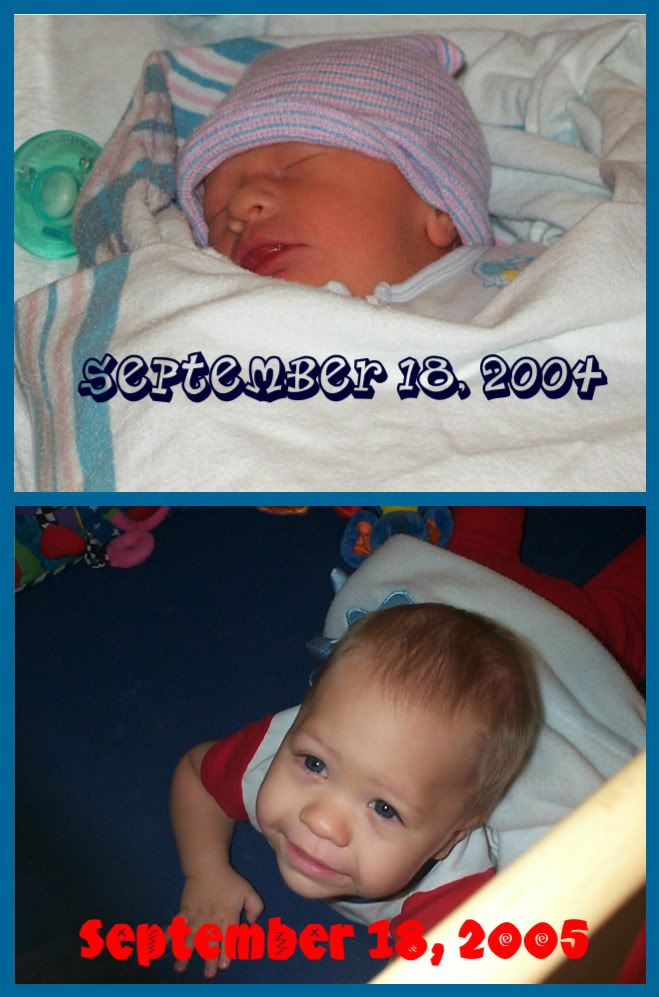 Ethan Nathaniel was born on September 18, at 10:06 AM.  He weighed 6 pounds 1 ounce, and he was 19 1/2 inches inches long.  The labor and delivery went smoothly.  His 1 minute APGAR was an 8, and his 5 minute was a 9, just like his brother and sister.
Feeding him was effortless.  He latched on and was a champ.  Given that his tongue was out of his mouth when he was born and continued to stick out for most of the next 12 months, it is surprising that he was such a good little eater.  I consider that one of the very first miracles about my sweet boy.  Everyone who I have talked to since has been very surprised that he was able to produce the sucking motion with such ease.
He came home from the hospital, and we immediately adjusted to our life as a family of four. Gabriel adored his brother, which was a huge blessing since Gabriel, at 18 months, was really still a baby himself.
The transition was made even easier by the fact that Ethan often slept in 5-6 hours stretches.  It was amazing. Ethan was a happy baby, smiling at 1 month, giggling at 2 months, and belly laughing at 3 months.
When Ethan was 3 months old, however, he developed his first ear infection.  It was his first Christmas. Seeing him so uncomfortable during such a joyous time was just heartbreaking.
But, within 3-4 days of being on the antibiotic, he was better…for about a week.
But during the night of January 2, things came crashing down around us.  Ethan was up almost all night.  He was congested and coughing a little baby cough.  I took him to the doctor first thing the next morning, where they quickly diagnosed with him RSV.  I did not even know what it was at the time.  I consider that a good thing because, in my blissful ignorance, I was able to stay very calm while they gave him a breathing treatment and got us all set up for what to do at home.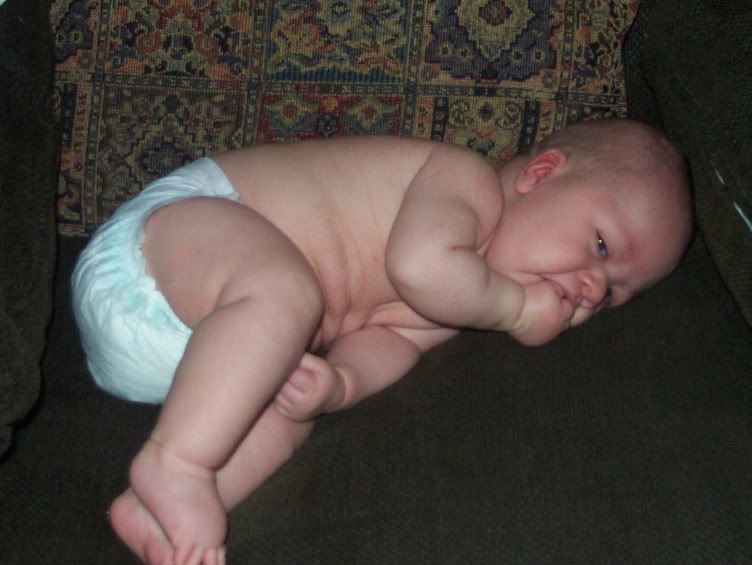 Within 2 days, we were back at the hospital.  Gabriel had developed pneumonia.  The next few weeks are a blur.  I slept on the floor in Ethan's room, and Sean went back and forth to Gabriel's room.  We were so worried about our babies.  It was also at this point when the first doctor suspected reflux.  It was uncertain, however, since Ethan did not have a history of spitting up.
Over the next few months, we spent an average of one day per week in the doctor's office.  We were convinced that Ethan was not making the progress that he should be making with his head and neck strength, we were concerned about his developmental milestones, and we did not understand why Ethan would cry often unless I was feeding him or walking around while bouncing him.  The doctors thought that we were just comparing him to Gabriel, who was advanced in everything and that Ethan was just going through a fussy stage.
By 6 months, we were referred to a specialist who would evaluate Ethan for in-house physical therapy.  Given that he was just now rolling over one way, from stomach to back, and was not starting to sit up, he qualified.  While the specialist was helpful in some areas, it was more stressful in others.  We did the therapy for about 6 months and decided to work with Ethan on our own.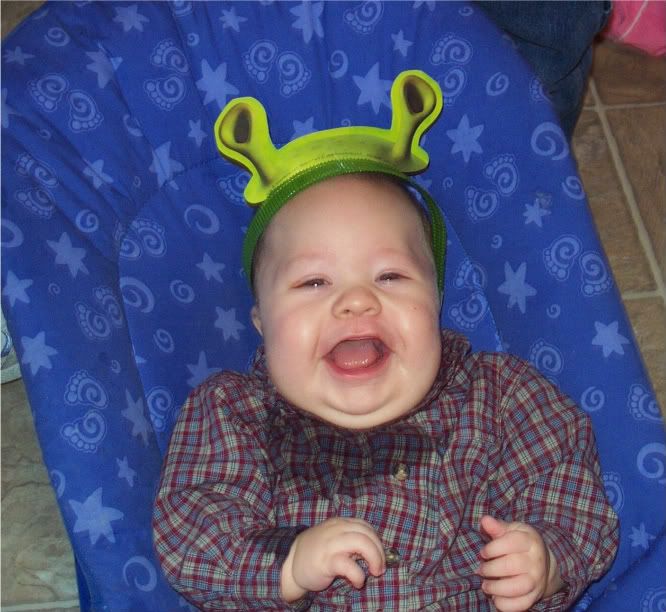 At 7 months, Ethan was rolling over both ways, sitting up for 1-5 seconds, and eating solid food. He was making great progress. And, he was such a happy baby boy. So, so happy.
By 8 months, Ethan was continuing to make progress, in baby steps. He was fully holding his head up by supporting his body with his arms instead of leaning on them. He was gaining strength and developing his little muscles.
In June, at 9 months, Ethan was sitting up. He was meeting his milestones…even if he was a few months behind with each of them. We decided that Ethan just had his own pace, and we were happy that he was making progress.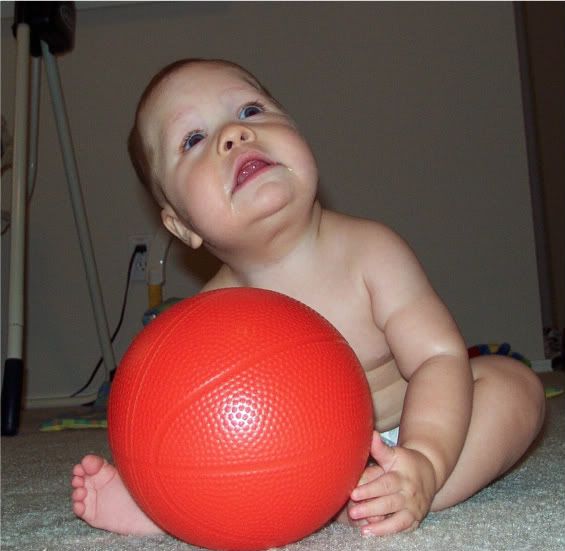 What concerned us, though, was that he was still so uncomfortable.  He would cry and bring his little legs up into his chest and then stretch them back out.  And, he was waking up every 1 1/2 hours at night.  As you can see in the pictures, Ethan's face continued to get very, very chubby.  Even though Ethan was only in the 10th percentile in weight, the doctors all seemed to take the chubby cheeks as a sign of health.  Later we discovered that his face was actually swollen because of all of the acid in his little body.  That level of acid can lead to terrible things.  We were very lucky.  Very, very lucky.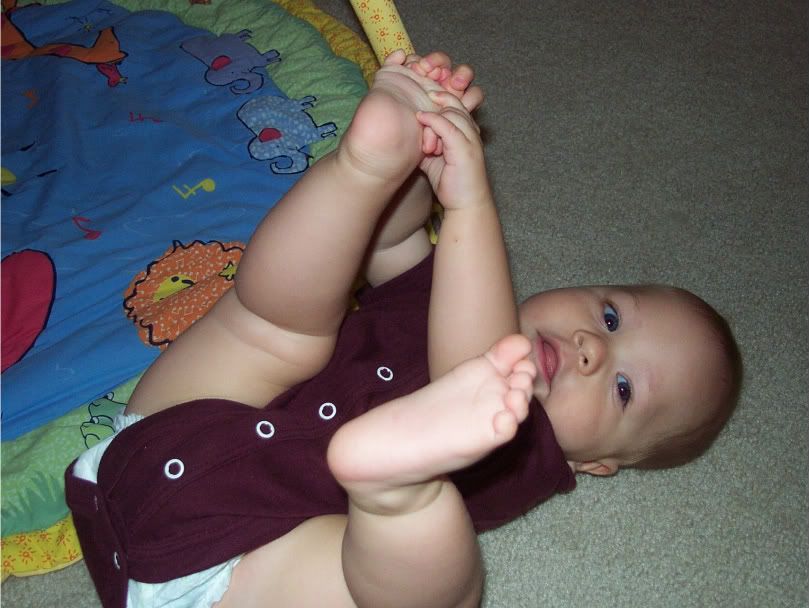 After many, many doctor's appointments, some of which resulted in the doctor literally telling us that Ethan was just teething!, we were referred to the GI specialist.  Unfortunately, the waiting list was a long one.  We were scheduled for July, and, in the interim, the pediatrician had Ethan on first one and then two different medications. Once we saw the GI doctor, on July 5, she scheduled some procedures, and had us remove Ethan from all of his medications so that the test results would be more accurate.
On July 22, Ethan entered the hospital to have an MRI, endoscopy, pH probe, and some lab work.  He was not able to eat all morning.  We thought that he would be a wreck, but, oddly enough, he did great.  Later we began to realize that not eating was why he was so happy that morning.  He was actually not refluxing for a few hours of his day, and it probably felt great.
After a few days, we received the results that we had been waiting on.  The doctor started the conversation by asking me how the hospital stay was.  I told her that it was miserable.  She said that she was not surprised, given that the test results showed that Ethan was refluxing every 1 1/2 hours, the exact amount of time that I had been telling doctors for months that Ethan woke up screaming.  It was one of the worst cases that she had ever seen.  She put Ethan on two medications and told us to see if that helped.
The medicines had always helped for awhile but then they would stop working.  Each time Ethan started a new one, he would have a burst of development.  When it quit working, he would stop making progress….so much so that he even quit teething during a 3-month period, when things were at their worst.  It was almost as if his little body just shut down because it only had enough energy to try to cope with the pain.
In late July, it broke my heart to wean my sweet Ethan and try formula.  I just could not handle the thought that my milk was causing him any additional discomfort, and it was so hard to determine the exact cause of what I might be eating that could be making the reflux worse.  Ethan initially did great.  He slept in 3 hours stretches, and he really took to the bottle so much better than we thought that he would.
Within a week, however, things were worse again.  Ethan seemed to be in even more pain, and we were having to change formula to try to find one that would work.  By this point, the doctor had him on four medications, one of which kept him awake all the time.  The pharmacist thought that I was crazy until he actually read the side effects.  Sure enough, sleeplessness was one of them.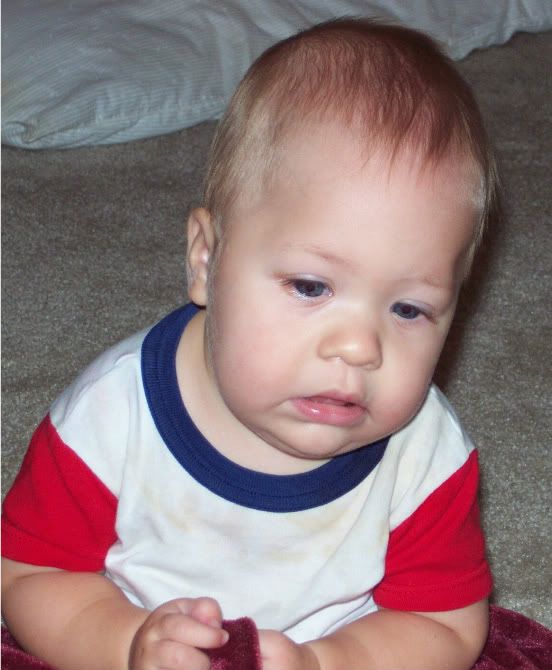 We saw a few other specialists between late July and early August. One of them had the audacity to tell us that Ethan would be anything from retarded to normal. First of all, in my very humble opinion, the "r" word should not belong in our vocabulary. It implies that someone is only valued based on their mental state, and I have to strongly disagree with that assessment of anyone. There is so much more to each of us than our mind. We have beautiful bodies, hearts, and spirits, as well. And, my Ethan is beautiful from head to toe, both inside and out. Second of all, every child falls within a range. Giving someone that information without having any research or medical information to back it up, was extremely unprofessional. I realize that it is a medical term, but, in my opinion, it should not be. Needless to say, I have never stepped foot back into that office again. It is a specialty area where we continue to get check-ups and exams for my sweet boy. We just opted to find a new, compassionate, kind doctor, one who values my Ethan for the complete person who he is.
On August 12, Sean went out of town. I remember the day very vividly. I had spoken to a friend on the phone who had worked in a naturopathic office, and she believed greatly in the whole theory of "we are what we eat". She talked to me about all of the things that she thought that Ethan should have in his diet – goat's milk, fruits, vegetables, and rice. And, we also discussed some vitamins and supplements that she thought might be beneficial.
That afternoon, the GI doctor called me and wanted to discuss the possibility of surgery. I told her that I would talk to Sean and get back to her. I knew in my heart that surgery was not the answer right now. I just could not do that to our sweet baby without trying other options. I never stepped foot back in that doctor's office either, and I felt very peaceful about that decision.
On August 13, I decided to go with the new diet, eliminating meat, dairy, and grains. In addition, I removed Ethan from all four of his medications and added in some vitamins and supplements. It was a decision that I made as a fierce momma bear, and I did not even discuss it with Sean until he was on his way home later that day. Luckily, he trusted my instincts. Within 48 hours, Ethan was a new baby. He was sleeping in 3-6 hour stretches, and he was happily playing during the day.
Unfortunately, in early September, Ethan developed a little cold, which put us in a wait and see mode regarding his 1st birthday party.  The thought of not having family together to celebrate what had been such a roller coaster of a year was killing me, though, and literally with less than a week to go until his birthday, I threw together a party for my sweet boy, with the theme being Elmo and a title of "Ethan's World".  Our little Ethan did have a world of his own, and we wanted to celebrate that.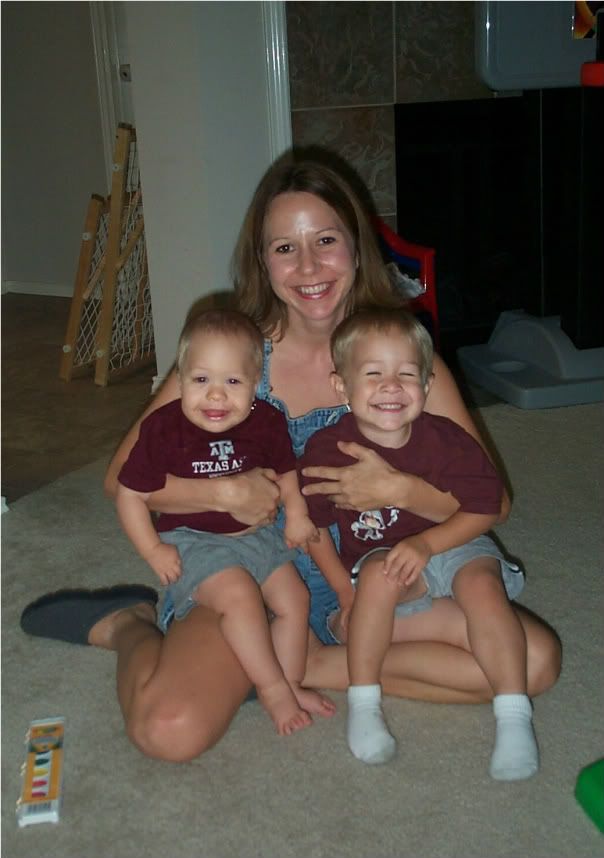 We just had one more goal that we wanted him to meet by the time that he was 1.  We wanted to see our boy crawl.  He was getting so close.  He would get up on all fours and rock back and forth.
By the day of Ethan's 1st birthday, we were all ready to celebrate. Ethan knew that he was the center of attention, and he loved it.  It was a special, magical day.  It was truly good and perfect in every way.  The weight that we had been carrying for so many months was lifted, and our boy was really starting to come into his own.  I was so happy that we celebrated Ethan's World on September 18, 2005.
Ethan's 1st year was full of ups and downs.  But, for me, as his momma, it was beautiful.  Ethan was all mine in so many ways.  That made things difficult, at times, because he really did not let anyone else hold him or comfort him.  However, the bond that we have is unbreakable.  I was there for him every step of the way, often rocking and feeding him every 1 1/2 hours throughout the day.  I remember Sean telling me that he admired my patience and love for our sweet boy.  I never thought about it.  Later, we were told that we were the perfect parents for Ethan.  Of course we are.  He was heaven sent straight to us, just like our other two children were.  He was a gift from above, one that I feel like we unwrap each morning when he runs to us with his amazing, loving, incredible smile.