The angels heard the calling, and we were surrounded by them.   One of the doctors who we have known the longest just happened to be there this morning.  He is our ENT, and  he has performed surgeries on both Ethan and Gabriel.  When I saw him, I felt at total peace, and when he came by to check on us, I knew that there was an additional angel in the room.  Thank you so much for your prayers.  They were felt and appreciated.
Ethan did great.  He was strong and brave, and I was so proud of him.
We already received some news, just based on what his doctor was able to see with the scope.  Ethan has ulcers and esophagitis.  At this point, the esophagitis is consistent with reflux symptoms, since it is worse towards the opening to his stomach.  The ulcers are an x-factor.  We are not sure why he developed them.  They did some biopsies and some additional lab work.  The biopsies will determine if he has something called H. pylori.  We are all-too-familiar with it because I had it last year.  The lab work will determine if he is deficient in anything (maybe B12 or folate), especially given that his red blood cells were slightly elevated when we ran the labs a few weeks ago.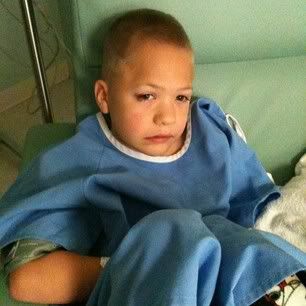 We will receive the biopsy and lab results in a week.  For now, Ethan will have to be on strong medication for the next two weeks, and then we will continue to reduce the dosage for the next year.  In two months, we will go back to see the doctor, and in three months, we will do another endoscopy to see if the ulcers are gone or at least reduced in size.  The danger with ulcers is that they can bleed.  And, given that Ethan is so, so young, we need to  make sure that we can get it all under control now.  Bless his poor baby heart.
Unfortunately, the news was not great, but at least we have some answers now.  And, we are so incredibly happy that we have an amazing doctor on Team Ethan.  He truly is fantastic.  While I wish that Ethan did not have to be going through any of this, I am glad that we at least have a kind, compassionate doctor to travel this journey with us.
We truly appreciate your thoughts, prayers, and messages.  Sean stayed home with Gabriel and Summer this morning, so it was just me in the waiting room.  But, I never felt alone.  I knew that we were in the hearts and minds of so many people who were sending love, hugs, and a few angels our way.  Thank you!