I took Ethan to have his procedures (the upper GI and ultrasound) done this morning.  It all started out great.  The Ultrasound Technician was wonderful.  She kept telling Ethan how great he was, continuing to reinforce the fact that he was being so good and patient.  And, she was right…he truly did great.
From there, we went to have the upper GI done.  The experience went from great to bad in about 2.5 seconds.  It was clear that the technician was not having a good morning…or maybe the two sips of coffee that she took on the way down the hall just were not enough for her.
Ethan tried to work his charm on her by walking over to help mix up his own "cocktail".  Unlike most people, she was not amused by it.  She let him do it, but she was clearly not smitten by him.  That should have been my first red flag.  But, he was so happy, that I just ignored her, pulled out my phone, and clicked a picture.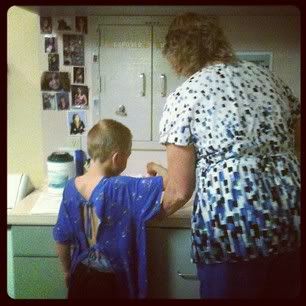 After everything was ready, he had to drink this fizzy drink and was told not to burp, to hold the other drink, and to be still.  Hmmmm…he is 7, he has a problem with reflux, he has not eaten since last night, and he is clearly not feeling well (after drinking the solution).  All of that combined should let anyone know that he needed an extra dose of patience, kindness, and compassion.  But, that is not what he received.  Apparently, he was not doing things quick enough for her because, after getting those images, she put the table in a lounge position and started getting some more.  She immediately said, "I did not get the most important image because it all took too long.  If you have to do this test again, you need to go to Children's where they have assistants and can handle this better."
Okay.  I get it.  He is a child, and Children's is better equipped for that.  But, what I heard was, "Your child has special needs and should never have been brought to this facility.  He cannot handle it and needed more help."  When, in reality, Ethan did much better than my other two would have done, and they are really great kids, too.  Ethan just tolerates medical procedures, in general, better than any kid who I know.  He was doing everything that was asked of him.  And, the fact that he has special needs had nothing to do with the fact that the procedure was a challenge.  I have had the procedure done before, so I know first-hand just how miserable it is to be hungry, not feel well, and drink that terrible solution.  I was very proud of how great he was doing!
And, I probably could have done okay with her first remark…if she had not repeated it THREE times.  Yes, THREE times.  By the third time, it was everything that I could do not to blurt out, "I heard you the first TWO times."  She was so frustrated at one point that she said, "I need to see if my radiologist can work with the images that I have been able to get."  Let me clarify…Ethan did everything that he was asked to do…move this way, move that way, hold your arm up, etc.  She was just frustrated that she did not get that one image that she needed.
I just kept telling Ethan what a great job he was doing, while he was seriously fighting back tears.  So, when she told me that we might have to re-do the procedure at Children's (yes, she threw that in again), I was just about in tears myself.
We are just praying that they were able to get all of the images that they needed so that our sweet doctor can make a decision regarding next steps.  For now, we have the endoscopy scheduled for November 28, just in case he still needs to see more or do any biopsies.
Believe it or not, we were able to salvage the day.  Ethan pulled it together and was a huge trooper.  Honestly, he amazes me every. single. day.   We decided that we need to celebrate how great he did.  So, we did a little shopping.  Then, we came home, got Sean and Summer, and did the best little surprise of all.  We went and got Gabriel out of school to go to lunch with us…just because.  Because Ethan did great. Because we learn more about kindness and compassion every day, even when it is because we witness others who need a little more practice with it.  And, because sometimes going out to lunch with the entire family on a Monday afternoon is all that is necessary to make an ordinary day into something extraordinary.  And, it worked.  The unicorns were there, and the lunch was perfect, just like my sweet Ethan.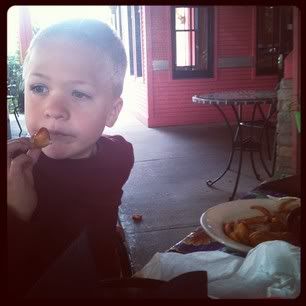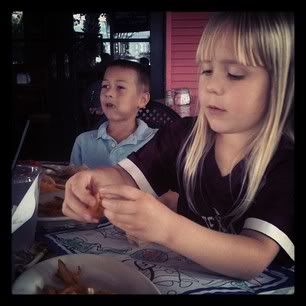 We should know more later today.  If we do not hear anything, that is a good thing because the nurse told me that they only call with "bad" news.  I received a message from a friend this morning just as I sat down at the office, and it made my day. Thank you so much for your thoughts and prayers today.  Thank you for caring and for thinking about us.  It truly means the world to me.  We are truly so blessed that we get to see the kindness, compassion, and love of so many wonderful people in action each day.  I truly cannot express how much Ethan has opened up our eyes to so many of the beautiful things in the world, in people, and in life in general.   We always try to see things through his eyes…and, wow, he truly does have amazing, wonderful vision.