I know how to get my girl excited.  Promise her a mall date.  She becomes instantly patient, helpful, and happy, all at once.  She knows that I have to finish everything that I need to do in order to spend a few hours doing absolutely nothing…yet absolutely everything, in her eyes….all at once.
Such was the case when we had our little date yesterday.
We had lunch.
And rode rides.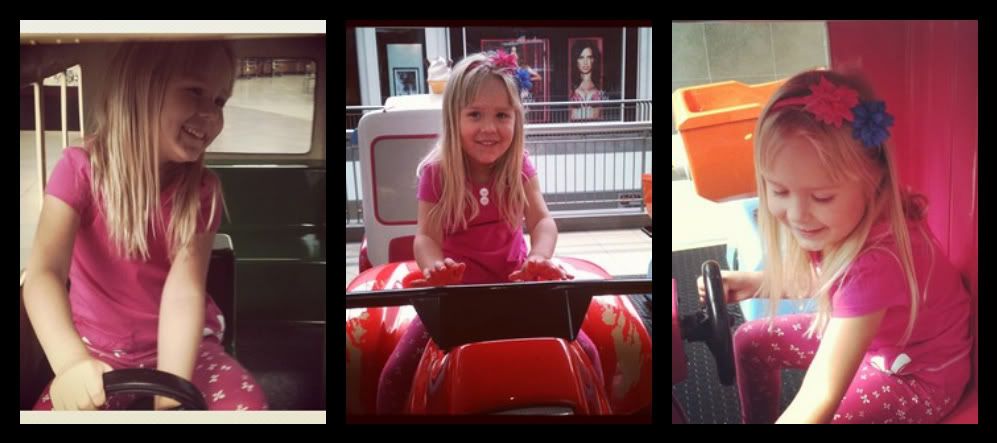 Shopped…well, I shopped, while she entertained herself.  I looked over to find her posing with the mannequins.  Promise.  She did it all by herself…and remained in that position until I took her picture.  Yes, we had comments and smiles.  And, she ignored them in order to keep her pose.  Nope, I am not a stage mom…but I could not help but appreciate her performance…just a little.
And, what date would be complete without some dessert?
Summer thanked me over and over for our mall date, and she lit up once again when she told Sean and the boys all about it.  It is the simple things that create the best memories.  And, I am going to try much harder not to let another month pass before we have another mall date.  Because something that means so much to my girl rates very high on my list of things that are hugely significant to me.  I can only hope that mall dates now will become a tradition, one that will continue years from now.  I would absolutely love to look up to find her striking a pose when she is sixteen, just as she was today.  And, while I am not going to hold my breath about that one, I will certainly continue our little mall dates, in hopes that those moments, those memories will become such a huge part of who we are that it will just naturally continue through the years.
My girl and I are similar in a lot of ways, and I hope that those things continue to bond us over the years. When it comes to food, she is way more picky than I am. However, we do have some similarities in the food department, as well. We both love bread, and we love sweets. That is why I knew that this Chocolate Cream Cheese Bread would be perfect for us.
Chocolate Cream Cheese Bread
Ingredients
Bread
2 packages active dry yeast
1/2 cup warm water
2 cups lukewarm milk
1/3 cup sugar
1/3 cup oil
3 teaspoons baking powder
2 teaspoons salt
1 egg
6 cups all-purpose flour
Chocolate Cream Cheese Filling
4 ounces cream cheese
1/4 cup powdered sugar
2 tablespoons heavy whipping cream
1 teaspoon vanilla
3 tablespoons Nutella (per small loaf)
Topping It Off
3 tablespoons melted butter
Sparkling sugar
Instructions
Bread

Dissolve yeast in warm water.
Stir in milk, sugar, oil, baking powder, salt, egg, and 3 cups of the flour.
Beat until smooth, gradually adding the additional 3 cups of flour.
Using the dough hook, mix for 6-8 minutes.
Place in well-greased bowl, cover, and let rise for 1 1/2 hours.

Preparing the Filling

Mix together the cream cheese, vanilla, powdered sugar, and whipping cream until smooth.

Putting It All Together

Preheat the oven to 350, and grease 2 small loaf pans. There is plenty of dough left for 2 pans of cinnamon rolls or 2-3 more small loafs of bread, as well.
Punch down dough and divide into fourths.
Roll the dough into a rectangle.
Starting about 1 inch from the top of the dough, spread about 3 tablespoons of the cream cheese mixture across the dough (it will spread all the way across and about 2 inches down)
Roll forward about 3 rolls (until near or just past the half-way point).
Spread about 3 tablespoons of Nutella, and continue to roll.
Trim edges and place in loaf pan. If there is additional dough, slice it in 1 1/2-2 inch thick circles for cinnamon rolls.
Repeat for 2nd loaf.
You can store the remainder of the dough in the refrigerator for a few days, make additional loaves, or make 2 pans of cinnamon rolls.

Topping It Off

Brush butter on the top of the loaves.
Sprinkle with sparkling sugar.
Bake for 20 minutes, until golden brown on top.
http://cookingformykids.com/2011/10/20/mall-date-recipe-chocolate-cream-cheese-bread/
Enjoy!
Come join the fun at the My Baking Addiction and GoodLife Eats Holiday Recipe Swap sponsored by Red Star Yeast.
I shared this recipe at A Little Nosh, Alli 'N Son, 30 Days, WhipperBerry, Recipes for My Boys, Foodie Friday, Tatertots & Jello, Be Different Act Normal, Sweet As Sugar Cookies, I Heart Naptime, Add a Pinch,  Lamb Around, Frugal Antics, Skip to My Lou, From Mess Hall to Bistro, Sweetology, Eat at Home, and Tidy Mom.