In the words of his teachers, "Ethan was on cloud nine this week, and I loved it!"  He was in a great mood, he smiled, and he happily did his work.  Yes, my youngest boy had a great week.  So, you can imagine the smile on my face.
We are not exactly sure why he had such a great week.  We have been trying to balance his diet, reintroducing old foods while still giving him some things in moderation.  And, we removed all of his medications and supplements, except for the reflux medication.  We believe that it might be a case of him just having too much in his system, and it just needed a break.
We have his swallow study scheduled for Tuesday, so we will hopefully finally start getting some answers regarding why he is still having reflux and choking.  They will have him swallow different types and textures of food and liquids, and they will actually see how he is swallowing.  From that, they will determine if the swallowing is causing choking and/or if the swallowing function is affecting his speech.  And, Ethan will get to spend the afternoon at home with Summer and I, which he will think is pretty cool.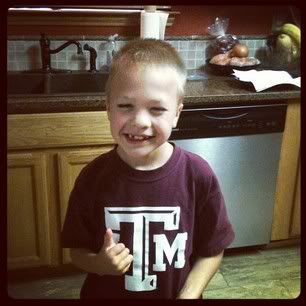 We have not noticed any new words this week.  Although, when I got home last night and went to tell him good-night, he very quietly and clearly said, "Hi, Momma."  I had been away from him for 4 hours, working our table at the Fall Festival.  So, seeing his smile and hearing those words just made my day complete.  I had a raging headache, but it went away for that moment.  Ethan has a way of doing that…of making anything bad turn suddenly good.  I know that I gush about him repeatedly, but, there is a reason for that…he really, truly is just that magical, just that awesome.
I truly appreciate all of the comments, prayers, emails, and conversations that I have had regarding Ethan.  When I started this blog, it was almost as if I could easily tell our story to an invisible audience.  It was easy to just type the words, not knowing who would read them.  And, it felt good.  I never really knew how great it would feel to then actually have face-to-face conversations with people.  Conversations that often begin with, "I love reading about Ethan."  I am glad….because I love writing about him.  And, it means so much to me that people feel so comfortable talking to me about him.  When I write, I share my heart.  I knew that it would be easy to share my heart with strangers, but I did not know how easy it would be, given how privately we have lived our life, to share my heart with friends and acquaintances.  Thank you for making it easy.  Thank you for continuing to read our story, a story that has had its share of magic and miracles.  And, a story that I am convinced will continue to have twists and turns but will result in a happily ever-after.