Our fluffy pumpkin is not feeling so well today.  We have all rallied around her, going so far as to carry her to and from each room, make pallets in the floor with her, and just give her extra special attention.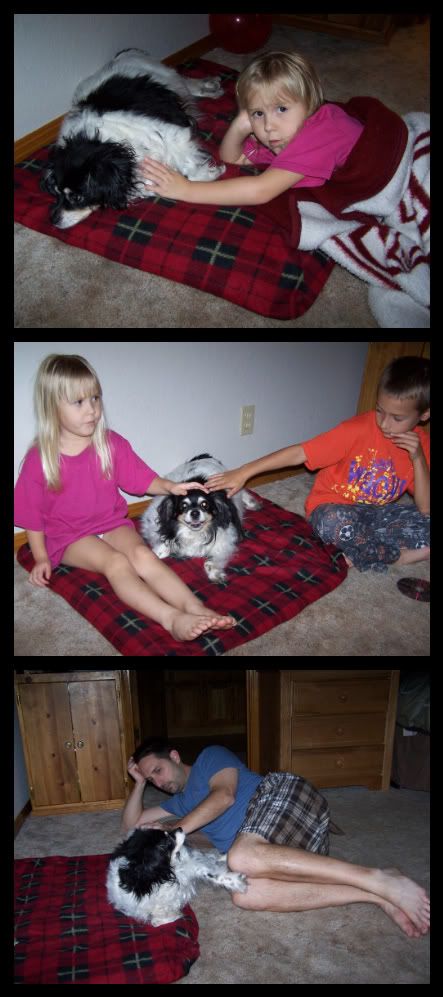 She is part of the family.
She is 12 years old, and I always tell her that she taught me how to be a momma.  Because, she did.  I got up with her when she cried, snuck her into bed in the early morning hours, took sick days at work when we thought she was so sick that we did not know if she would make it, and acted like it was Christmas morning each morning when she gave me those first puppy licks, her tail wagging with excitement.
I wish that making her some soup would make her all better.  It probably will not, but it will certainly warm our bellies.  And, with a warm belly, we will have the energy to keep carrying her, loving her, and helping her get better.  Because, she is one of us….and, we always stick together.
Recipe: Chicken Enchilada Soup
Ingredients:
Ingredients
2 bone-in chicken breasts
1 tablespoon olive oil
Onion, chopped - about 1/4 cup
Red bell pepper, chopped
1 10 ounce package of frozen corn
1 can black beans, rinsed and drained
1 10 ounce can enchilada sauce
1 15 ounce can tomato sauce
4 cups chicken broth
1 cup whipping cream
1 tablespoon corn starch
Salt
Pepper
Chili Powder
Cumin
Pepper Jack or Colby Jack cheese, for sprinkling on top
Tortilla strips, for sprinkling on top
Instructions
Place chicken into crock pot, add 4 cups of water, and sprinkle 1 teaspoon of salt, 1 teaspoon of pepper, 1 teaspoon chili powder, and 1 teaspoon cumin over the chicken. Cook on low for 8 hours.
Remove the chicken from the crock pot. Allow it to cool, and then cut it into pieces.
Strain the broth into a large pot.
In a large pot, add the olive oil, and heat over medium high heat. Add the bell pepper and onion, and saute for about 3-5 minutes. Pour in the reserved chicken broth, enchilada sauce, tomato sauce, corn, and black beans. Reduce heat to medium low, and simmer for 15 minutes.
Mix the corn starch with the cream, and slowly add it to the soup. Simmer for another 5 minutes, and season to taste with the additional salt, pepper, chili powder, and/our cumin.
Ladle into soup bowls, and sprinkle with cheese and tortilla strips.
http://cookingformykids.com/2011/10/10/soup-for-the-soul-recipe-chicken-enchilada-soup/
Enjoy!
Come join the fun at the My Baking Addiction and GoodLife Eats Holiday Recipe Swap sponsored by Pacific Natural Foods.
I have shared this recipe at This Chick Cooks, The Lady Behind the Curtain, Good (Cheap) Eats, Blue Cricket Design, The King's Court, and My Sweet and Savory.